Hi guys! So my next review and giveaway is for
Joey Junior
. I'll be doing two reviews and giveaways for them, which is so exciting! But my first review for them is for their foldable purse hangers. I receive this cool clear crystal purse hanger: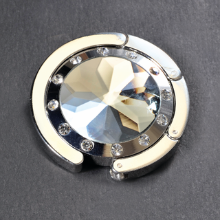 I always hated putting my purse on dirty grounds especially if you're at like pizzerias and you know it's a dirty ground but have no absolute other place to put it. I'm always paranoid too that if a cockaroach might crawl in it or something, yeah I'm crazy like that. But With this cool little hanger you can just hang your purse off of the table and not be worried/paranoid about cockaroaches sneaking in.
And, I'm not going to lie, I tested the weight out with this product because I carry a heavy ass purse. But don't let the small size of this purse hanger fool you, it in fact does hold heavy purses up. It actually holds up to 17 pounds, unless you have a bunch of bricks in your purse, I'm sure this little hanger will hold it up. Here's what my purse looked like: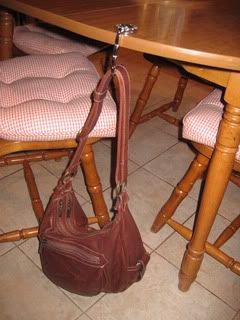 I like how it had a little crystal too to kind of jazz it up and make it more of a fancy accessory. I also liked how it came with a nice little velvet pouch as a kind of holder for it so you don't scratch the bejeweled crystal.
And don't think that this crystal will cause the hanger to slip off the table easily, nope. It has a non-slip cushion pad that makes it stay in place.
All in all, I thought this little purse hanger was a big help.
The only problem I had with it was that the price of the actual purse hanger is actually $19.95, which is a tad bit steep for me, but then again if you eat out a lot it could definitely be worth it.
Buy It!
Head on over to
JoeyJunior.com
and
order a purse hanger for yourself, they've got a bunch of colors to choose from!
Win It!
ONE winner will receive a
Joey Junior
foldable
purse hanger of their choice!
1. Go to
JoeyJunior.com
and tell me which color
you prefer you want.
Please answer this question or else your comment will not count! You must do this first or future entries will not be counted.
(1 entry)
BONUS ENTRIES
2. Subscribe by Email and Confirm that Subscription (1 entry)
3. Follow StarIMPULSE on Blogger. (1 entry)
4. Follow me on Twitter. (1 entry)
5. Tweet about this giveaway and send me a direct link to that tweet, you can do this once a day. (1 entry per day)
6. Subscribe to my YouTube channel. (1 entry)
7. Add my StarIMPULSE button to your sidebar and send me think link to your blog so I can see it. (1 entry)
8. Add StarIMPULSE to your blogroll (using my URL), with a link back to me! (1 entry)
ONE winner will be chosen on April 1, 2010 at 8:00pm (EST) and then will be emailed.
Alternate winners will be chosen if winner does not respond after 48 hours. This contest is only open to people in the contiguous 48 states. Thank you and good luck!
Disclaimer-
I was provided a product in exchange for my review.
You can read more about my blog policies in my disclaimer.
IF YOU DO NOT CORRECTLY ANSWER MY CONTEST QUESTION, YOUR COMMENT WILL BE IMMEDIATELY REJECTED.