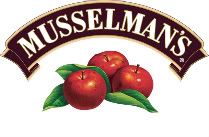 Hi guys so my next review and giveaway is for
Musselman's
. Musselman's is a really delicious company specializing in applesauce. But they have these new kind of applesauces called
"Healthy Picks."
And many they are soooo good! I called them "kind of applesauces" because they're not apple-flavored but still have that same type of texture and everything as applesauce. I was sent all 3 of their delicious new flavors.

Those flavors are:
Key Lime Cupuacu
Raspberry Acai
Blueberry Pomegranate
All these flavors were so delicious but right when I read all the flavors I knew which one was going to be my favorite and it ended up being my favorite indeed:
Blueberry Pomegranate
. I pretty much love anything blueberry. My mom once gave me a stocking stuffer for Christmas that was blueberry pancake mix WITH blueberry syrup. We once went berry picking specifically because I wanted blueberries. I could continue with my blueberry addiction but this post isn't about that it's about Mussellman's!
The others were very delicious too. They all had huge bursts of flavor, though it took me a second to get used to the fact that these applesauces didn't taste like apples, but, in my opinion, kind of tasted better. (blueberries > apples in my opinion) And I didn't even know what Cupuacu was but man did it taste good. (It's a melon-like superfruit that's filled with antioxidants, vitamin b, and amino acids.)
They're all super healthy for you and only 70 calories! That's less calories than a small granola bar! There's no added sugar or artificial colors or flavors. All organic, all natural, all delicious.
It really was a great healthy snack whether it be afternoon snack for your kids after school or an extra little lunch snack, this is definitely worth it. Even if you're not a big applesauce fan you should definitely try it out. I'm not a big applesauce fan at all, I don't even remember the last time eating applesauce let alone eating it as a snack but these snack packs are so good I might even buy some more. Instead of eating my cookies I'll eat these. :)
Buy It!
Head on over to
My Brand's website
to shop for
Musselman's
online or check out the
Store Locator
on the
Musselman's
site to see if there's a store near you that sells their products. I'm pretty sure any big supermarket has them because I see them at ShopRite and Pathmark near me.
Win It!
ONE grand prize winner will receive 3 packs of
Healthy Picks by Musselmans
. One of each new flavor, there's four cups in each pack.
1. Go to the
Musselman's website
and comment on this post telling me what other Musselman's products you would like to try in the future.
Please answer this question or else your comment will not count! You must do this first or future entries will not be counted.
(1 entry)
BONUS ENTRIES
2. Subscribe by Email and Confirm that Subscription (1 entry)
3. Follow StarIMPULSE on Blogger. (1 entry)
4. Follow me on Twitter. (1 entry)
5. Tweet about this giveaway and send me a direct link to that tweet, you can do this once a day. (1 entry per day)
6. Subscribe to my YouTube channel. (1 entry)
7. Add my StarIMPULSE button to your sidebar and send me think link to your blog so I can see it. (1 entry)
8. Add StarIMPULSE to your blogroll (using my URL), with a link back to me! (1 entry)
ONE winner will be chosen on April 9th, 2010 at 7:00pm (EST) and then will be emailed.
Alternate winners will be chosen if winner does not respond after 48 hours. Thank you and good luck!
Disclaimer-
I was provided a product for free in exchange for my review.
You can read more about my blog policies in my disclaimer.
IF YOU DO NOT CORRECTLY ANSWER MY CONTEST QUESTION, YOUR COMMENT WILL BE IMMEDIATELY REJECTED.