Hey guys! So my next review and giveaway is for
Soft Lips PURE Orangic Lip Conditioners
. I received five lip conditioners.
The flavors were:

- Peppermint
- Papaya
- Pomegranate
- Chai Tea
- Acai Berry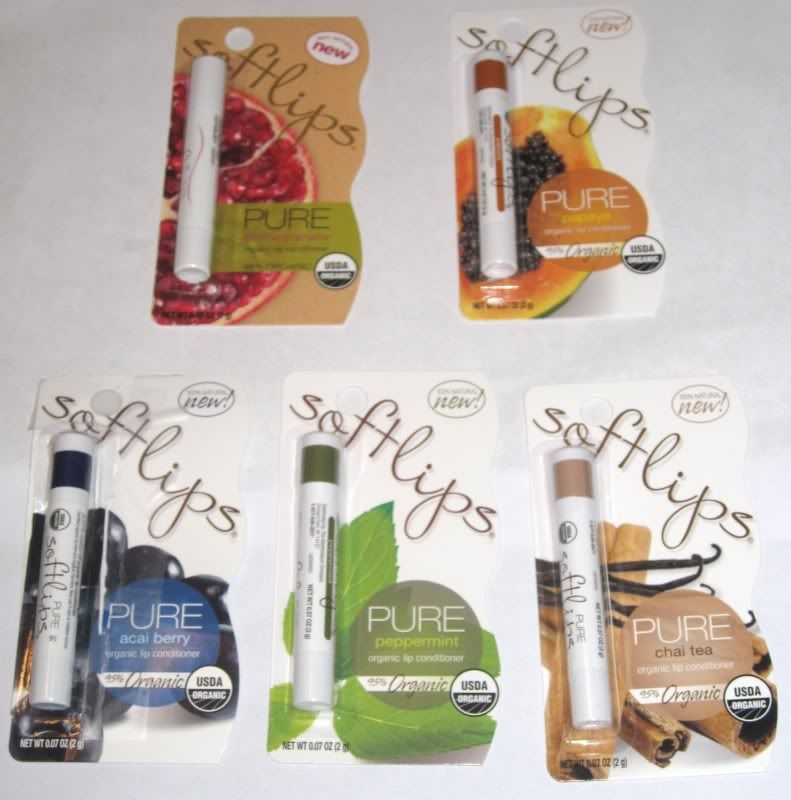 Pomegranate
is one of it's original flavors but the other four just came out in 2009. They all smell so good and don't have that icky taste that a lot of lip conditioners have. They're a great substitution for chapstick when your lips are dry. Except chapstick typically only has like 3 flavors (cherry, peppermint, and original) while
Soft Lips PURE Orangic Lip Conditioners
has these fancy flavors (and Honeydew, too!) They're not typical flavors that aren't made for lip conditioners or even lip glosses for that matter and that's what's cool about them. My favorite is the
Chai Tea
it smells just like real Chai Tea and is so good! I also love the
Acai Berry
too, it's not as strong of a smell as
Chai Tea
but still smells wonderful.
Acai Berry
isn't a strong or sweet smelling berry anyway, so it actually does smell like the berry.
But let's talk about what these lip conditioners are made of. You can pronounce ALLL the ingredients! The ingredients are all organic, eco-friendly, and they don't test products on animals. Even the cardboard that it's encased around is made from recycled material. Just makes you want it even more, I know!
And this lip conditioner doesn't feel too waxy or oily or too caked on, you barely even feel it. It does give you softer, smoother lips too because I always have chapped lips, I've been using these (switching up the flavors every so often) for a few days now and my lips do feel smoother and softer.
So if you love chapstick or any type of lip moisturizer because you've got chapped lips, like me, especially because it's the winter time. You definitely should check these out! They're so much different than the regular chapsticks and lip balm, they're green, have fantastic flavors, and feel good on. Plus they're cheap! Only $2.99 each!
Buy It!
Check out the store locator on
SoftLips.com
where you can find a local store near you that sells them, download a PDF order form, or order them online at
Drugstore.com
. Unfortunately, you can only check your local store if they have the
Honeydew
or
Pomegranate
flavors, they don't seem to have the new ones up yet. But check your local Target or drug store anyway, I'm sure they carry them.
Win It!
ONE lucky winner will win all five of these
Soft Lips PURE Orangic Lip Conditioners
.
1. Go to
Soft Lips Website
and tell me which flavor you can't wait for.
Please answer this question or else your comment will not count! You must do this first or future entries will not be counted.
(1 entry)
BONUS ENTRIES
2. Subscribe by Email and Confirm that Subscription (1 entry)
3. Follow StarIMPULSE on Blogger. (1 entry)
4. Follow me on Twitter. (1 entry)
5. Tweet about this giveaway and send me a direct link to that tweet, you can do this once a day. (1 entry per day)
6. Subscribe to my YouTube channel. (1 entry)
7. Add my StarIMPULSE button to your sidebar and send me think link to your blog so I can see it. (1 entry)
8. Add StarIMPULSE to your blogroll (using my URL), with a link back to me! (1 entry)
ONE winner will be chosen on March 24, 2010 at 10pm (EST) and then will be emailed.
Alternate winners will be chosen if winner does not respond after 48 hours. This contest is only open to people in the contiguous 48 states. Thank you and good luck!
Disclaimer-
I was provided a product in exchange for my review.
You can read more about my blog policies in my disclaimer.
IF YOU DO NOT CORRECTLY ANSWER MY CONTEST QUESTION, YOUR COMMENT WILL BE IMMEDIATELY REJECTED.