Hi guys so my next review and giveaway is for
WAT-AHH
. I received a 4-pack of
WAT-AHH
with different flavors, some stickers, temporary tattoos, and a cool cup. Check it out: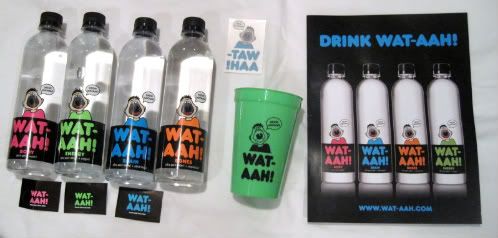 Their different flavors are:
Bones
: Ultra pure water with magnesium
Brains
: Ultra pure water with electrolytes
Body
: Ultra pure water
Energy
: Ultra pure water with oxygen
WAT-AHH
is a great product because it's basically it is targeted to kids to make them choose water instead of sugary, fattening drinks. The entire mission of
WAT-AHH
is to prevent obesity in children. Living in the US, I think that's a great idea because it is one of the fattest countries in the world (not the fattest, but #9 on the fattest countries list according to a study done by the World Health Organization, yup I researched this, Nauru is #1).
I thought the whole style of the bottle was really fun and eye-catching for kids. It's not just a boring Aquafina bottle or Poland Spring, it's got a different shape and the colors used to write WA-TAAH is eye catching, I feel like kids would think this whole style is very hip and cool looking.
I also like the little additions to create flavors. I wouldn't say they're flavors though because they all taste like delicious water, but they're like "boosts" in Jamba Juice you know? Jamba Juice has energy and immunity boosts and
WAT-AHH
has bones, brains, body, and energy boosts. Just little additions of oxygen and electrolytes and magnesium can help you feel a lot better! These boosts are great for kids in school too, Brains to wake up their brains if they have a big test, Energy if they're tired and don't want to fall asleep in class haha, stuff like that.
I know if I was a kid I would definitely drink these. Heck I'm still in college so I'm still kind of a kid and I'll definitely pick one of these up when I see them. It's also great because it's water with a cause. It's not just a company pumping out bottles of water for profit they want to stop obesity in children and this is a great way of doing it.
Buy It!
Head on over to the
WAT-AHH website
and click on the "Where to get WAT-AAH" tab, click your state and you'll find a bunch of stores. Or you can always order them off Amazon.com. Try your local Whole Foods store too, they seem to stock a lot of them there.
Win It!
ONE winner will receive a mixed case of
WAT-AHH website
along with a bunch of WAT-AAH goodies (pencils, erasers, stickers, etc.)
1. Visit the
WAT-AHH website
and tell me a cool fact you learned. Please answer this question or else your comment will not count! You must do this first or future entries will not be counted. (1 entry)
BONUS ENTRIES
2. Enter WAT-AAH's
"blame-sug-aah contest"
by submitting a photo to win a pair of WAT-AAH shoes. (1 entry)
3.
Follow WAT-AAH on twitter.
(1 entry)
4.
Follow WAT-AAH's blog.
(1 entry)
5.
Become a fan of WAT-AAH on facebook.
(1 entry)
6. Subscribe to starIMPULSE by Email and Confirm that Subscription (1 entry)
7. Follow StarIMPULSE on Blogger. (1 entry)
8. Follow me on Twitter. (1 entry)
9. Tweet about this giveaway and send me a direct link to that tweet, you can do this once a day. (1 entry per day)
10. Subscribe to my YouTube channel. (1 entry)
11. Add my StarIMPULSE button to your sidebar and send me think link to your blog so I can see it. (2 entries)
ONE winner will be chosen on March 30, 2010 at 9:00pm (EST) and then will be emailed.
Alternate winners will be chosen if winner does not respond after 48 hours. This contest is only open to people in the contiguous 48 states. Thank you and good luck!
Disclaimer-
I was provided a product in exchange for my review.
You can read more about my blog policies in my disclaimer.
IF YOU DO NOT CORRECTLY ANSWER MY CONTEST QUESTION, YOUR COMMENT WILL BE IMMEDIATELY REJECTED.