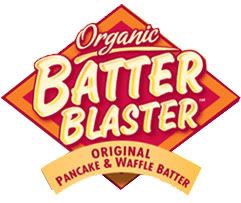 Hey guys so my next review is for
Batter Blaster
. Batter Blaster is a really cool organic pancake/waffle batter that comes straight out of a can. All you do is squirt it (kind of like whipped cream) into the pan instead of adding water or making the batter yourself.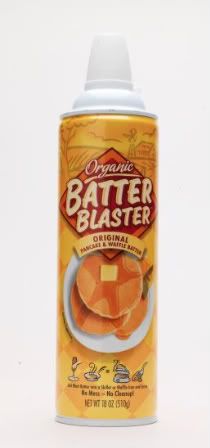 Now I am a huuuuge fan of pancakes. I have them at least once a week for breakfast maybe even more. I'm a big breakfast person, so I would not lie to you if this batter stunk. I mean it is a kind of odd concept, you know, ready made batter from a can? But to tell you the truth, I really, really liked this batter. It was sooo much faster to make pancakes since the batter was already made. Plus it seemed to cook faster. Literally less than five minutes a the pancake was done. It was delicious too! It didn't taste any different from the usual pancake mixes I get. The only difference was that these were a little thinner than normal pancakes.
But still this batter from a can is a lot healther than the batter you have to make from the box or just add water to. One serving which is approximatel 2 pancakes at 4" is only 80 calories. Granted this does not include the huge lake of syrup that I add to my pancakes but hey that's still less than regular pancakes. Plus, nothing for nothing, I may drown my pancakes in syrup but it is sugar free syrup and it tastes just like regular syrup.
This batter is also organic too. You can actually pronounce all their ingredients. Don't believe me? Well here they are: Filtered water, Organic wheat flour (unbleached), Organic cane sugar, Organic whole egg solids, Organic soybean powder, Sodium lactate (lactic acid from beet sugar), DiCalcium phosphate (leavening agent), Sea salt, Sodium bicarbonate (baking soda), and Organic rice bran extract. Also there's no trans fat or saturated fat either. See? Health pancakes! Yay!
And I know mornings can be busy, you have to rush around and end up eating cereal or poptarts because they're quick and easy but seriously try this
Batter Blaster
it is so quick and easy! You can have pancakes every morning! Or if you have a waffle machine, waffles! Even better! :)
Buy It!
Check out and see if Batter Blaster is sold at a store near you by checking out the store locator section on the main page of the
Batter Blaster site
. They're sold at Stop and Shop, A&P, and most Shop Rites but I did go to one Shop Rite first and they didn't have it so I ended up going to Stop and Shop. There's probably a load more stores too, just check it out.
Disclaimer-
I was provided a product in exchange for my review.
You can read more about my blog policies in my disclaimer.