Hey guys so guess what! I'm doing another review and giveaway for
Golden Moon Tea
. Yayy, the tea is just so nice I had to review it twice! This time though I got to review the
Coconut Pouchong tea
.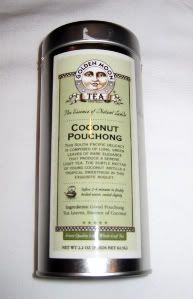 I actually tried this tea out right after opening the package I was sooo excited to try it because I loveeee coconut and man I wasn't disappointed! At all!
Now I am completely serious when I say this but this is now, officially, my new favorite tea in the world, period. Now, I'm not particularly a tea conossieur but just as much I've had a bunch of teas in the past blueberry green tea, cinnamon apple tea, etc. But this tea, this tea blows the competition away! Seriously, it is that incredibly amazingly delicious!
I'm not going to lie either, I was worried about this tea when I received it I thought it wasn't going to live up to expectation much like a lot of teas I've had in the past. Like, for instance, I always hated trying teas that are blueberry or whatever and they smell like blueberry but taste nothing like blueberry and for some reason, that happens a lot with teas or at least the teas I try. This is not the case with the Coconut Pouchong tea. It tastes delicious, I mean it's not a BAM huge intense flavor of coconut, but that's now how tea is supposed to be, the point is you can taste the coconut and it tastes amazing. I love anything coconut though so if you're not a fan of coconut you might not like this tea, in fact you probably won't, but if you love coconut then you will love this tea as much as I did.
This is a green tea so it's almost clear looking tea with a tinge of green, I put some milk in it and it was white, haha, but don't think that the tea isn't powerful enough, just because the color is light looking. It's still strong and delicious. This tea actually won First Place for Best Green Iced Tea at the 2007 World Tea Expo and believe me it definitely deserved it! Though I didn't try it as an iced tea because I don't have the equiptment to create iced tea from loose leaf tea leaves but as a hot tea it was delicious, one could only imagine how much more delicious it is when it's iced. Mmm!
This is what Golden Moon Tea's website had to say about their delicious Coconut Pouchong tea:
"The reasons Golden Moon's Coconut Pouchong is noticeably better than others are pretty simple. For one, we use the highest grade teas for the base for this flavored blend – large, deep green loose leaves – where normally leaves of such quality wouldn't used. This makes a difference. And we derive our deep, natural coconut flavor from real coconut milk, instead of the artificial flavoring employed by most other blends."
To read more about what I think about the Golden Moon Tea website and it's other famously popular and delicious tea, Tippy Earl Grey Tea check out my review of it
here
.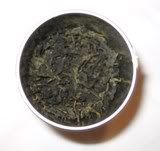 Buy It!
Head on over to
Golden Moon Tea's Website
and browse around. Pick out the delicious Coconut Pouchong or live on the edge and try a sampler pack. You can order online or by phone.
Win It!
ONE winner will receive a tin of Golden Moon Tea's Coconut Pouchong!
1. Go to Golden Moon Tea's website and tell me what other tea flavor you would like to try in the future.
Please answer this question or else your comment will not count! You must do this first or future entries will not be counted.
(1 entry)
BONUS ENTRIES
2.
Become a fan of Golden Moon Tea's Facebook.
3. Subscribe by Email and Confirm that Subscription (1 entry)
4. Follow StarIMPULSE on Blogger. (2 entries!)
5. Follow me on Twitter. (1 entry)
6. Tweet about this giveaway and send me a direct link to that tweet, you can do this once a day. (1 entry per day)
7. Subscribe to my YouTube channel. (1 entry)
8. Add my StarIMPULSE button to your sidebar and send me think link to your blog so I can see it. (1 entry)
9. Add StarIMPULSE to your blogroll (using my URL), with a link back to me! (1 entry)
ONE winner will be chosen on April 30, 2010 at 9:00pm (EST) and then will be emailed.
Alternate winners will be chosen if winner does not respond after 48 hours. This contest is only open to all US Residents. Thank you and good luck!
Disclaimer-
I was provided a product in exchange for my review.
You can read more about my blog policies in my disclaimer.