Hey guys so my next review and giveaway is for
nuNAAT
! nuNAAT is this really cool cosmetics company that has products specially designed to combine the latest available technology with a variety of natural ingredients, mainly found in the Amazon Forest. Its diverse product line caters to those seeking the best that nature has to offer. Here's what I received in from them: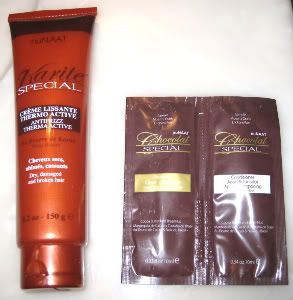 Sample size of Chocolat Shampoo and Conditioner
Karite Anti-Frizz Therma Active
I loved the shampoo and conditioner. They smelled soooo good. The shampoo is Chocolate Creamy and the conditioner is Chocolate Shake. The color of both is brown so I was nervous putting something so dark on my hair because I'm not used to dark shampoos, but don't worry, you're hair is fine – if anything better after using this! The Chocolat Creamy Shampoo gently cleanses while moisturizing and protecting the hair shaft from further damage caused by sunlight and chemical treatments. While the Chocolate Shake Conditoner's Cocoa Butter and Brazil Nut ingredients work together to penetrate and strengthen the hair shaft, restoring moisture and a velvety silkiness to your hair. This tempting conditioner is ideal for hair that has been damaged by the sun or chemical treatments, and its inspiring chocolat aroma will satisfy your desire for self-indulgence.
I actually thought the conditioner smelled stronger of chocolate than the shampoo, I mean the shampoo smelled like chocolate but it was fainter than the conditioner. Maybe that's better because you put the conditioner on last so your hair smells the strongest. I loved it though. I tend to shower every other day because I'm always busy and can't really shower everyday so by day 2, the day I have to shower again, my hair gets kind of oily. Not like super oily but I can notice it. I noticed with this shampoo and conditioner my hair wasn't as oily the next day, who knows I can probably pass another day without showering! Hahahaha, I'm just kidding!! No but seriously, they were really great and my hair kind of felt lighter and softer afterwards.
As for the Karite Anti-Frizz Therma Active that was really cool too. With its irresistible fragrance, Karite Anti-frizz is a heat-activated, leave-in product for all hair types that helps keep your hair soft while preventing frizz throughout the day. Maximize your hairstyle with Karite Anti-frizz. It did smell really good too. I actually didn't use this product because I don't really blow dry my hair because my hair isn't that frizzy and I shower at night so I felt if I tried it would it get messed up in the morning anyways? But I had the perfect candidate use it! – My mom! My mom's hair is pretty frizzy and she gets annoyed by it so I told her to try this out and see if there was a difference. Well there was! She showed me in the morning and her hair was actually smooth and straighter than usual. She actually loved it because there's usually always that little hair that flips the wrong way and is frizzy and messes everything up, but she didn't have it this morning. Why? Because of this Anti-Frizz!
All in all I thought the products were really great and lived up to their name definitely. I would definitely buy these in the future!
Buy It!
Head on over to
nuNAAT's website
and order some products online! Or click on the
Where to Find
link to see if they're selling any products near you!
Win It!
ONE winner will receive
Naat Serum
! Naat Serum is is specially formulated to smooth over frizzy hair , restore split ends and provide an intense shine while protecting your hair from external elements. To use, massage through the hair and leave on (no rinsing required).
1. Go to
nuNAAT's website
and tell me what product you would like to try in the future. Please answer this question or else your comment will not count! You must do this first or future entries will not be counted. (1 entry)
BONUS ENTRIES
2. Subscribe by Email and Confirm that Subscription (1 entry)
3. Follow StarIMPULSE on Blogger. (2 entries!)
4. Follow me on Twitter. (1 entry)
5. Tweet about this giveaway and send me a direct link to that tweet, you can do this once a day. (1 entry per day)
6. Subscribe to my YouTube channel. (1 entry)
7. Add my StarIMPULSE button to your sidebar and send me think link to your blog so I can see it. (1 entry)
8. Add StarIMPULSE to your blogroll (using my URL), with a link back to me! (1 entry)
ONE winner will be chosen on May 2nd, 2010 at 10:00pm (EST) and then will be emailed.
Alternate winners will be chosen if winner does not respond after 48 hours. This contest is only open to all US Residents. Thank you and good luck!
Disclaimer-
I was provided a product in exchange for my review.
You can read more about my blog policies in my disclaimer.