Hey guys! So my next review and giveaway is for
Alex and Ani Jewelry
. I received the Crazy Love Exapandable Wire Bangle in Russian Gold and it is so cute!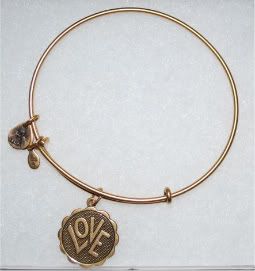 I love how this bangle is expandable, you don't have to squeeeeze your hand to get it on or you don't have to worry about it falling off, just adjust it and it'll fit perfect to your wrist! It's definitely nothing like I've ever seen before, they should definitely make more expandable bangles like Alex and Ani's because they are fantastic! I also loved how it was a simple yet very pretty piece of jewelry. I like jewelry but I'm not a flashy person, I like simple but not plain, just enough to catch someone's eye and have them think "oh that's cute" and this is definitely something that fits that critera for me. It's stylish but not over the top which is perfect because you can wear it for everything and to everywhere, it's just a great piece of jewelry for any occasion.
The durable-ness of the bracelet was that it was very durable. You can tell that it wasn't made cheaply and that it's a bracelet that will last you for quite a long time as long as you treat it right. It's very easy to expand the bracelet and it doesn't stick or get stuck in one position, it's very easy to use. Also it's lightweight, your wrist doesn't feel like it's weighing down because of a heavy, chunky bracelet, infact your wrist barely feels like you're wearing a bracelet.
I actually wore this bracelet to work one day and got compliments on it from almost everyone. They loved it! To be honest, I was kind of surprised because it is a lovely product but I wasn't sure anyone was going to notice I was wearing it, well they did! Alex and Ani products have the wonderful ability to stand out but not protrude out like some too-flashy jewelry that's out now.
Alex and Ani has tons of these wonderful expandable bangles to choose from, you can buy either single bangles or sets of them. But they don't just sell bangles, they also sell some wonderful necklaces, earrings, rings, and head pieces like bands and pins. All of them have their Alex and Ani stamp on them though, whether it be a little charm like the one on their bangles or just that stylish look all Alex and Ani products seem to have.
All in all, I really did love this bracelet and can't wait to wear it more often to everywhere. Alex and Ani have great products for people that don't really wear jewelry but kind of want to start (like me sorta, I'm not a big jewelry person but I will occasionally wear one piece or two). Or even for hardcore jewelry addicts, add this to your collection and you'll love it! It's also great for a gift for any girl even for the picky girl because it is such a simple, easy to wear piece that anyone will love. Also a good present for Mother's Day, just buy your mom this with some flowers and she'll definitely be pretty happy. :)
Buy It!
Head on over to
Alex and Ani's website
and browse their gorgeous selection. They have so much for you to choose from! Also use the promo code
IC2010
and you receive 10% off your purchase!
Win It!
ONE winner will win a
Fleur de Lis Expandable Bangle
it's so pretty and perfect for this sprign season!
1. Comment telling me what other bangle you think is super cool and would like to purchase in the future..
Please answer this question or else your comment will not count! You must do this first or future entries will not be counted.
(1 entry)
BONUS ENTRIES
2.
Follow Alex and Ani on Twitter.
(1 entry)
3.
Become a fan of Alex and Ani on facebook.
(1 entry)
4. Subscribe by Email and Confirm that Subscription (1 entry)
5. Follow StarIMPULSE on Blogger. (2 entries!)
6. Follow me on Twitter. (1 entry)
7. Tweet about this giveaway and send me a direct link to that tweet, you can do this once a day. (1 entry per day)
8. Subscribe to my YouTube channel. (1 entry per day)
9. Add my StarIMPULSE button to your sidebar and send me think link to your blog so I can see it. (1 entry)
10. Add StarIMPULSE to your blogroll (using my URL), with a link back to me! (1 entry)
ONE winner will be chosen on May 19th, 2010 at 9:00pm (EST) and then will be emailed.
Alternate winners will be chosen if winner does not respond after 48 hours. This contest is only open to all US Residents. Thank you and good luck!
Disclaimer-
I was provided a product in exchange for my review.
You can read more about my blog policies in my disclaimer.