Hi guys! So my next review and giveaway is for
SPIbelt!
SPIbelt is this really, really small personal item belt. It's mainly for running.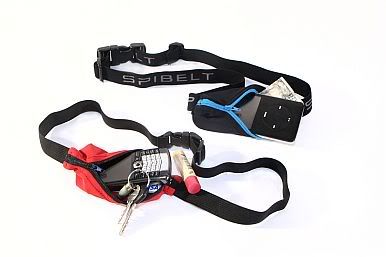 I thought this belt was really cool. But honestly? My firt impression of it was "Yeah right, like my phone is going to fit in this little pocket." I have a Droid and the pocket looked like it was about an inch wide. But guess what? It stretches...A LOT. I tested it. Not only did it fit my phone but it also fit my iPod (which is a regular-sized iPod by the way, not a nano or anything) and my keys and some money. It was pretty cool to show off to everyone how much stuff this baby can actually fit in it. It looks so tiny at first but it's far from it! Also another really, really great thing was that no matter how heavy it got it didn't flap up and down when you run around. It was very elastic but not so elastic that you felt uncomfortable. Just enough to not have it become a fanny pack.
But this is a super cool idea, very handy. Because a lot of workout and running pants nowadays don't have pockets or have like super tiny pockets that you can fit maybe a key in not multiple keys, not a phone, just one key. Or if there's even no pockets you sometimes have to stick your key or whatever in your phone, which is even worse. So an item like this, that's just basically an extra pocket to put all you're stuff in snapped securely around your waist is an EXCELLENT idea.
Another good idea is if you're traveling and are worried about going abroad and getting things stolen this can be a good idea instead of those things you put under your clothes or you know, fanny packs. You can fit your passport and any other important information in here.
But the website in general is also really cool because they sell these SPIbelts for adults as well as kids SPIbelts, they come in a bunch of different designs like blue and pink camo and plaid. This is great for them to hold their little game things like Nintendo DS or even like a little pad and crayons. They also have SPIbelts in reflective color so if you're a night runner, there you go. The website also has fitness DVDs called specifically for your legs and core they're called "Love Your Legs" and "Love Your Core." So it's cool how the website is trying to expand their brand by adding DVDs and such.
I'm not a huge fitness person but I do try and run as much as I can but I tend not to because I had no pockets, now I have to say I really am excited to run more. Heck even bike ride more because once it gets hot out I can't wear my fleece that has the zipper pockets so I'm going to be using this baby. I think it'd be great for bike riding too because it's just tight around your waist, it won't snag with anything on the bike like a lot of bags on the back of the seat tend to do with the tire. I actually did try it when I went bike riding and it worked out awesome. (I like to bring my phone on runs and bike rides because it has a GPS thing where you can see how many miles you've gone.)
All in all, this is a great product. I'm really excited to try it out more and what's great is that it gets me excited to work out and go for a run more, so yay!
Buy It!
Head on over to
SPIbelt's website
and browse their selection. If you're into working out or if you want to get into working out you should definitely check these out they are soo cool!
Win It!
ONE winner will receive a SPIbelt of your choice!
1. Comment telling me what color SPIbelt you would like.
Please answer this question or else your comment will not count! You must do this first or future entries will not be counted.
(1 entry)
BONUS ENTRIES
2. Subscribe by Email and Confirm that Subscription (1 entry)
3. Follow StarIMPULSE on Blogger. (2 entries!)
4. Follow me on Twitter. (1 entry)
5. Tweet about this giveaway and send me a direct link to that tweet, you can do this once a day. (1 entry per day)
6. Subscribe to my YouTube channel. (1 entry per day)
7. Add my StarIMPULSE button to your sidebar and send me think link to your blog so I can see it. (1 entry)
8. Add StarIMPULSE to your blogroll (using my URL), with a link back to me! (1 entry)
ONE winner will be chosen on May 25th, 2010 at 5:00pm (EST) and then will be emailed.
Alternate winners will be chosen if winner does not respond after 48 hours. This contest is only open to all US Residents. Thank you and good luck!
Disclaimer-
I was provided a product in exchange for my review.
You can read more about my blog policies in my disclaimer.