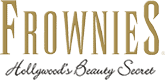 Hey guys so my next review is for
Frownies
! Frownies is this really great company that is known for their amazing wrinkle reducers. As the website says:
"Natural Wrinkle reduction for forehead wrinkles, crows feet, eye wrinkles, marionette lines. Splint the muscles under the appearing skin lines and watch them change one night after the next. FROWNIES have been called the best wrinkle reducer."
I received the Facelife in a Bag.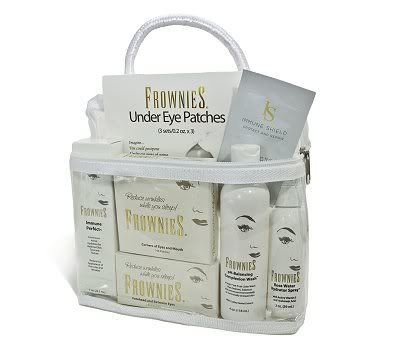 The bag included these items:
Under Eye Gel Patch
Forehead & Between the Eyes Patch
Corner of Eyes & Mouth Patch
Rose Water Hydrator Spray
Immune Perféct Skin Moisturizer
Immune Shield Skin Serum
pH Balancing Complexion Wash

I'm really pale so you can see circles under my eyes really easily even when I'm not that tired and the Frownies under eye patches is what really turned me onto this company. It seemed like such a great idea and I had to try it. So out of all the products I tried that one first. The under eye patches are made with are made with cactus collagen and bear berries to give you effects such as: reduce the appearance of fine lines and wrinkles under the eyes, reduce the appearance of dark circles under the eyes, lighten and brighten skin under the eyes, and help rebuild loss of collagen under the eyes. You feel a weird sensation when you have them on. You leave them on for about a half an hour and use them for about 3 to 7 days and you will see a difference. I used them and I did see a bit of a difference. It was really easy to put them on but sometimes I felt like it was slowly sliding off. I think it just feels like that though because they're wet and kind of mushy so it's just a feeling that they're sliding off but I think it's just the wetness. They were easy to use though and worked well!
Next up is both the Forehead and Between the Eyes and the Corner of the Eyes and Mouth Patches. They're both fairly similar, they're made of this hard brown paper. You wet one side of it and stick it on your face. You actually wet it with the Rose Water Toner Hydrator which I will talk about next. This one you feel a slight sensation but not as big of a one as the eye patches. These you also have to keep on longer, too. Very easy to use but just remember to re-wet them when taking them off because if you try to take them off once they've dried it is worse than tearing off a bandaid. I saw a small difference but these you need to wear everyday and for quite a while. I'm not going to lie I did forget to put it on on some nights but when I did use it I did see a slight difference.
Next up is both the Rose Water Hydrator Spray and the pH Balancing Complexion Wash. I really did like both of these products a lot and just for regular use. First off a lot of spray toners kind of have a weird smell to them or try and smell all flowery when they just smell too perfumey, this one does not. It has a nice refreshing smell which I loved. You spray it on the back of the patches to active them but you can also just use it like normal toner. You just spray it on your face and neck to rehydrate dry or tired skin. It's not greasy it's very refreshing and literally feels like water maybe that's why it's called rose water ohhh. No but really it's really great. Also the pH Balancing Complexion Wash is great I use it regularly now just a face wash. It's great because it doesn't dry out my skin or irriate it. It's a great face cleaner for everyday use. Once again this one didn't smell weird and was just great, wasn't too soapy, definitely my favorite face cleanser at the moment.
Next up are the Immunes as I'd like to say. The Immune Shield is used for after sun care so I used it when I went to Florida after I burned thanks to me being pale and having fun at a water park aka not really paying attention to the "reapply" part of sunscreen. So I used it on my shoulders the worst part of burning I received. It soothed it a few days later I still peeled a bit but I blame my genetics not this lotion. It worked when I used it though! But it was a small sample I could only use it once, not that I'm complaining! I'm just letting you all know, I am sure it would have continued to work plus I probably should have put some aloe or other lotion on my burns and not ignored it, my bad, but summer isn't even here yet I have more burns and more time to remember. Lastly, the Immune-Perfect which is an effective anti-wrinkle therapy. All you have to do is apply it on your face every day and every night. I noticed a bit of a difference. The color is weird though, it's brown but it doesn't show up brown on your face. But it worked pretty well.
All in all these are really great products, well worth it especially if you're feeling self conscious about your wrinkles or bags under your eyes. Also just their facial products like the complexion wash and the toner they're great they don't irriate they're very gentle and get the job done. Great, great products, I loved them!
Buy It!
Head on over to
Frownies.com
and browse their awesome selection. Check out the Face Lift in a Bag or just single products.