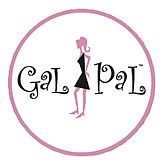 Hey guys! So my next review is for
Gal Pal
! Gal Pal is this awesome company that is known for the "Gal Pal" which is the original garment deodorant remover but also has a bunch of other cool gal-related products! I had the chance to review the Gal Pal Hanger Hugger and Gal Pal Everything Tape!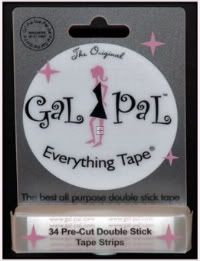 I didn't review the Gal Pal deodorant removers because I actually have them, I think I got them for Christmas as a stocking stuffer like three years ago. And yes the work wonderfully. They're basically round pink sponges that you wet and just wipe onto the garment. Its ridiculously easy and crazy suprising that it works but it does. I'm that clumsy person that would put the deodorant on first and then put like a black shirt on and have those annoying white lines from where the shirt bunched up for a hot minute under my armpit. Super annoyingggg! Instead of finding another shirt/outfit to wear just use these babies they are awesome. I believe my mom got them from The Container Store and although it was three years ago I'm going to assume they're still there. But it's been three years and they still work, I don't use them that that much though because I forget where I put them a lot, haha, but they still work!
But anyways, back to the two products that I recently/aka not 3 year years ago received. First off the hanger huggers are like a serious blessing in disguise. Not even in disguise because once you see them you just know, you just know. As the website says:
"Tired of buying padded hangers only to have your garments slip off and end up on the closet floor. sick of having a closet full of wire hangers that leave shoulder bumps? Hanger Hungers allow you to instantly convert any standards size hanger into a non-slip padded hanger."
The only complaint is that I only received three because MAN these babies come in handy and I've got a lot of tank top/spaghetti strap shirts that just never seem to stay on the darn hooks! Sometimes I've I'm looking for a shirt I have to look on my closet floor for it because it might have fallen. But these things help me out sooo much! They're so easy to use, you don't even need instructions, you just look at it and know how to put it on. They're made velour and that material for some reason is magical and makes the garments actually stay on the hooks. I used them on wire hangers because, like Joan Crawford, I hate wire hangers and yet have a BILLION of them. So at least three of them are not really wire hangers anymore thanks to these hanger huggers. I just love them! One of the best yet simplest inventions ever!
The next product I received was their Everything Tape which is pretty self-explanitory. As the website says:
"Preventing a style snafu has become our new mission. Seriously, how many times has your blouse gapped open at the wrong time or when the hem on your pants has fallen out on the way to a meeting and you needed an instant fix? Gal Pal® has come to the rescue once again with the Everything Tape. We have brought you the very best all-purpose double stick adhesive tape for any fast fix-it problem. Not only does the Gal Pal Everything Tape™ fix and secures everything from apparel to lingerie, pant hems to shoe straps, wigs to scarves, but even your home/office organizing to decorating projects. Our 2½" x 3/8" pre-cut disposable adhesive strips (with removable backing) are just the right size for your fix-it issues."
Now I'm not going to lie, I don't have much of a chest much like Shakira, I am lucky that my breasts are small and humble so you don't confuse them with mountains. But anyway, the chest that I do have I am self-conscious about it and when I wear a low cut top I probably point it out more to make you notice I'm wearing it because I try and push it up and look down at it a lot to make sure nothing is out when it's supposed to be in, so this tape is great. I used it on one shirt and hardly checked it out the whole day. It's comfortable too, I mean you feel it on but it doesn't hurt or anything when you take it off. Plus it makes you feel much more comfortable and less awkward when you wear that low cut shirt. Another awesome yet simple invention. I love this too!
All in all, I loved both of this products! I loved how simple yet super useful they were. These aren't just the only super cool products they have either! They have these cute retro ice bags which come in different bright patterns and colors and they have a lint remover mitts. Again super simple products that are so helpful and fantastic. You guys will definitely love any if not all of these products, definitely check them out!
Buy It!
Head on over to
Gal Pal's website
and browse their products, they're all reasonably cheap too! The hanger huggers are the steepest priced item at $16.99 but think about it, where are you ever going to find a product like this? It's one of those one-of-a-kind products that are so worth the price.