Hi guys! So my next review and giveaway is for
Footzyrolls
! As the website says:
"Footzyrolls are the rollable ballet flats that are both comfortable and stylish. Footzyrolls roll up to fit almost anywhere, even the smallest of Prada clutches and are the perfect relief from stilettos after a long day of work or night out at the clubs."
I received the Black Magic in a small.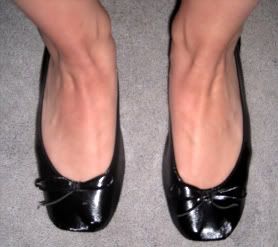 I loved how these were packaged and sent to me. They were in a small cylinder and rolled up inside were my footzyrolls! So cute and a great way to store them. I can put them on my desk or near my purse and always remember to bust them open and bring them when I'm going out. It also came with 2 bags: one big one for your heels/uncomfortable shoes so you can switch into your footzyrolls towards the end of the night, and one small one to keep your footzyrolls in. I thought the bags were such a fantastic idea, especially the big one because yeah it's great to have an extra pair of shoes but where will you put the ones you're wearing? Well this bag is just for that! It has a drawstring too so you can hold it easily.
Also, like I said above, they're rollable! So even if you have a tiny clutch they WILL fit! Seriously Footzyrolls thought of EVERYTHING to make sure your comfortable/equipped enough to wear them! They're also small enough so you can just put them in your bag all the time, just have them there so whenever you need them you won't forget them.
I'm typically a size 7.5 but they don't have half sizes, thankfully Footzyrolls knew the small was good enough, and although my toes are at the tip the fabric is very stretchy and easily fits. The shoes don't feel too tight or uncomforable either, just under the bow bothers me a little but that's because my feet are weird with flats. Literally they find any non-smooth area and it irritates the crap out of them. But I put some tape over the bump and they work perfectly. They're comfy, they feel like slippers.
They're great for the summer because you're going to be wearing some nice sandals and heels out nice looking but maybe not so comfortable. So these Footzyrolls will come in super handy for you! Definitely check them out!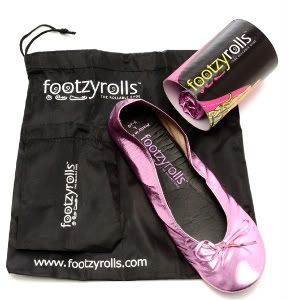 Buy It!
Check out
Footzyrolls website
and browse all the cool colors! They're a bargain at only $25 - $30 a pair, any women who appreciates convenience, style and comfort must have a pair of Footzyrolls this Summer.
Win It!
ONE winner will receive a pair of Footzyrolls of their choice!
1. Go to
Footzyrolls's website
and tell me what footzyroll you'd like in what color and size.
Please answer this question or else your comment will not count! You must do this first or future entries will not be counted.
(1 entry)
BONUS ENTRIES
2. Subscribe by Email and Confirm that Subscription (1 entry)
3. Follow StarIMPULSE on Blogger. (1 entry)
4. Follow me on Twitter. (1 entry)
5. Tweet about this giveaway and send me a direct link to that tweet, you can do this once a day. (1 entry per day)
6. Subscribe to my YouTube channel. (1 entry)
7. Add my StarIMPULSE button to your sidebar and send me think link to your blog so I can see it. (1 entry)
8. Add StarIMPULSE to your blogroll (using my URL), with a link back to me! (1 entry)
ONE winner will be chosen on July 22nd, 2010 at 5:00pm (EST) and then will be emailed.
Alternate winners will be chosen if winner does not respond after 48 hours. This contest is only open to all US residents. Thank you and good luck!
Disclaimer-
I was provided a product in exchange for my review.
You can read more about my blog policies in my disclaimer.
IF YOU DO NOT CORRECTLY ANSWER MY CONTEST QUESTION, YOUR COMMENT WILL BE IMMEDIATELY REJECTED.