Hey guys! So my next review and giveaway is for
Jenulence
. As the website says, Jenulence is
"mineral makeup and all-natural skincare products that are ideal for those with chemical sensitivities, sensitive or sun-damaged skin and for anyone who is health-conscious and would like to use non-toxic natural skincare and cosmetics."
I received the eyeshadows Ice Cream Matte and Dark Mystery Matte as well as Wild Orchid Runaway Blush.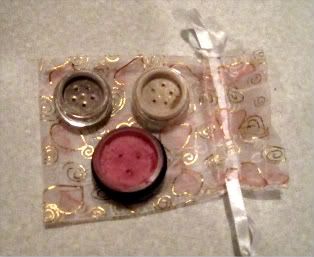 (Sorry for the bad quality picture, it was pretty difficult getting the colors of the makeup with the flash so I used without and it was a bit blurry.)
Now I never tried using mineral makeup before that came in the Sifter Jars and let me tell you how dumb I am, I had to google how to use this makeup because I was like "what the hell, there's no makeup coming out!" but duhhh it's because it had a sticker covering the holes. Wow, yeah, that's me. TGFG = thank god for google.
Anyways, I really enjoyed this makeup. Very easy to use, too. I chose these two eyeshadow colors because they're from Smokey Eyes - Smokey Mystery Gift Set. I'm not particularly good with styling my eyeshadow but I've always wanted to try and get that smokey look, so now at least I have the colors to practice with. But also these colors don't have to be smokey but can be less dramatic and more casual if you use less of the Dark Mystery matte and more of the Ice Cream matte. The eyeshadow stayed on for a while too but wasn't that annoying eyemakeup that too FOREVER to come off. Just a nice face scrub and it'll come off.
The blush was cool too but you should only use a little bit because it's a super pink color. I typically like a bit more mute and neutral shades for my blush because I'm pale. But this color worked but just a little bit at once.
It's also really great to find out that this is all natural makeup. My skin is super sensitive and if the makeup is oily or just cakey my face might break out. This makeup is very gentle and it hardly feels like there is anything on. They're really great.
Jenulence not only has eyeshadow and blush too but also skin care products like toners, lip balms, moisturizers, and also bath and body products like body oils and bath salts. Definitely a site to check out because their makeup is wonderful so I can only imagine they're other products are equally awesome.
Buy It!
Head on over to
Jenulence's website
or the
Jenulence etsy shop
and browse their great selection.
Win It!
ONE winner will receive two eyeshadows of their choice!
1. Go to either
Jenulence's website
or
Jenulence's Etsy shop
and tell me which two eyeshadow colors you'd like.
Please answer this question or else your comment will not count! You must do this first or future entries will not be counted.
(1 entry)
BONUS ENTRIES
2.
Follow Jenulence on Twitter.
(1 entry)
3.
Become a Fan of Jenulence on Facebook.
(1 entry)
4.
Subscribe to Jenulence's newletter, the subscription box is located on the bottom left of their website.
(1 entry)
5. Follow starIMPULSE on blogger. (2 entries!)
6. Subscribe by Email and Confirm that Subscription (1 entry)
7. Follow me on Twitter. (1 entry)
8. Tweet about this giveaway and send me a direct link to that tweet, you can do this once a day. (1 entry per day)
9. Subscribe to my YouTube channel. (1 entry)
10. Add my StarIMPULSE button to your sidebar and send me think link to your blog so I can see it. (1 entry)
11. Add StarIMPULSE to your blogroll (using my URL), with a link back to me! (1 entry)
ONE winner will be chosen on August 9, 2010 at 5:00pm (EST) and then will be emailed.
Alternate winners will be chosen if winner does not respond after 48 hours. This contest is only open to US, Canadian, and International Residents. Thank you and good luck!
Disclaimer-
I was provided a product in exchange for my review.
You can read more about my blog policies in my disclaimer.