Hey guys! So my next review is for
Newman's Own Organics
. Newman's Own Organics is a great snack company that has organic chocolate, pretzels, cookies, mints and even dog food! And holy crap I was sent a buttload of goodies to try!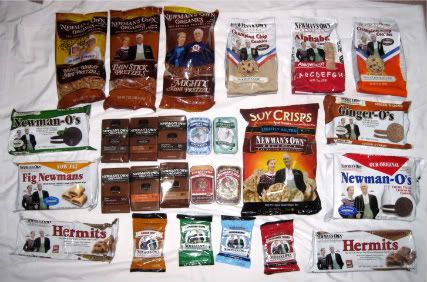 The goodies I received were:
Hermits
Mints
Fig Newmans
Various Mints
Champion Chip Cookies
Pretzels
Chocolate Bars
Newman O's
Ginger O's
Alphabet Cookies
Soy Crips
As the website says:
"'Great tasting food that happens to be organic.' (That's what we kept in mind when we created our products.) We focus on the kinds of products we loved as kids, but take them one step further by using the highest quality of available organic ingredients."
I haven't tried all of the cookies and treats yet but I've tried to try one of each so far and everything is just so good! I'm just going to touch upon a few of the treats that I received.
My personal favorite are the Hermits. I received both the Original Hermits and the Cinnamon Hermits to try and I love them both. I know what you're thinking, what are Hermits? They're super soft cookies made with molasses and raisins. The best way I can describe them is that they're kind of like oatmeal raisin cookies but without the oatmeal, if that makes sense. They were just sooo good though, both of them. But why the name Hermits? Well on the website it says that one theory is that hermits were named for their long keeping qualities—better when hidden away like a hermit for several days. I doubt if these will last long enough to hide. And yeah, they weren't because me and my dad attacked both bags of these.
Another great one were the Newman O's they were just like Oreos but better because they're healither and organic AND even better because they had a MINT flavored one. They were just so good! Basically if you're a fan of Oreo-styled cookies you will love these. The mint ones were my fave though because where else can you get mint ones? Mmm, so good.
The chocolate bars, oh my god. Can I just say I love that they had not one but TWO dark chocolates? One was just Dark Chocolate the other was Super Dark Chocolate with 70% Cocoa. Wow, these were awesome but I had to freeze them then just keep them refridgerated because when I received them in the mail they were all melted. But after the whole refridgeration process I tried them and they still tasted as great and awesome. I love Dark Chocolate so both of these flavors were my favorite, I actually like the Super Dark the best. But the other chocolates were great too, especially the Mocha Chocolate one, yum.
The pretzels I wasn't a huge fan of, I guess I like my pretzels more unhealthy and super salty because they weren't salty enough for me. But then again, I'm not a huge pretzel fan so it wasn't that big of a deal. My mom really enjoyed them though.
Lastly, the Fig Newmans. First off, I love the name. And these were so much better than actual Fig Newtons. These were fatter and so much more flavorful. Again me and my dad attacked these. So soft and delicious.
Overall, all of these snacks were sooo good. And there's so much to choose from there is definitely something for everyone unless you are super weird and don't like to eat which I don't think anyone is because it's kind of a neccessity. Definitely, definitely check out Newman's Own Organics you won't be disappointed. I only received some of what they have, yes they actually have more goodies than the buttload I received! That's what I'm saying man! They have sooo much! Even pet food! Awesome!
Buy It!
Head on over to
Newman's Own Organics' website
and browse their wide selection of goodies. Or click on the
Store Locator
and see if there's a store near you selling them, near me there's no chain stores just lots and lots of organic-based food stores, like Roots and the Garden of Eden.