Hey everyone! So my next review is for
Crystal Light Pure Fitness
. I had a chance to review this product thanks to
Vocalpoint
! As the Vocalpoint website says:
"When you add Crystal Light Pure Fitness to your water glass or bottle, you get a naturally sweetened, deliciously flavored drink that's only 15 calories per serving. So you can quench your thirst without compromise."
Crystal Light Pure Fitness comes in three flavors: Grape, Lemon Lime, and Strawberry Kiwi and I had the chance to try all three flavors.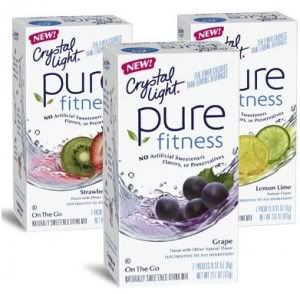 When I work out I'm a big hydrator. I always bring a bottle of water and refill it constantly throughout my workout so I pretty excited to try a little flavor to my water with these little packets. And I really liked them, specifically the lemon lime. The strawberry kiwi was my second favorite and grape my last. The lemon lime was great though because it tasted really fantastic and not too sweet but still had a nice flavor. I drink lemon-water like it's my job though so that might be why that was my fave, but the lime gave it an awesome little kick too. The strawberry kiwi was good too but a little sweet, it tasted better when it was watered down a bit because the sweetness made me more thirsty in a way. But if I wasn't working out I think I would just drink the strawberry kiwi one whenever just because it was almost like juice but not as many calories. But the grape, well, I'm just not a big grape-flavor fan I like grapes, just not grape-flavored things...if that makes sense?
But this is really great, especially if you like something flavorful to drink while you're working out but not something with a lot of calories. Crystal Light Pure Fitness only has 15 calories per serving. It has no artificial sweetners or flavors, no preservatives, and it's naturally sweetened with evaporated cane juice and Truvia. Truvia is that awesome natural sweetener I tried a few weeks back that tastes just like sugar but has no calories!
Overall this is a really great product! I definitely plan on buying the lemon lime one in the future just because it was pretty delicious and a great bit of flavor, just enough for working out yet still satisfying your thirst and keeping you hydrated. No yucky aftertaste too like a lot of these low-calorie drinks have, super yummy!
Buy It!
Head on over to your local supermarket and pick up a box! Check out their website
here
!