Hey guys! So my next review and giveaway is for
Ozone Socks
. I'm a huge socks fan, my sock drawer is literally overflowing. But I just can't enough of them man, I love crazy cool designs and sometimes if I go somewhere I'll try to get socks from there. Like when I went to London I got a pair of Union Jack socks just because. I have knee socks, regular socks, thick winter socks, allll kinds. So I was thrilled to do this review and giveway! Ozone Socks have a huge selection of socks for men, women and childrens. They have so many hip and cool designs and lengths too. From no-show socks to over the knee "eye candy" which have a bunch of eyes on it, haha. All the styles are super fun! I received the No Shows in beige and the Nordic Stripe in red and violet.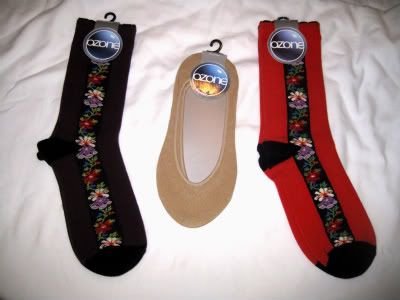 (The violet isn't that dark I couldn't get the camera to capture the violet color correctly for some reason? It's really pretty though.)
These socks are sooo great and comfy! I absolutely love them. It actually took me a long time to pick out a few mainly because of their enormous selection. I wasn't sure if I wanted regular socks or do it up fancy and get some knee highs. But I stuck to ones I would wear more often and that would be the regular ones and the no shows because it's summertime and No Shows are great for wearing sneakers with shorts or shorter pants during this time of year. Another thing about the No Shows is that there are so many socks like thisbut they're thin and don't last at all, a lot that I've had are crappy like peds from the store but these are so fantastic. They're not super thick but they're not so thin that they'll thin out super fast.
As for the Nordic Stripe ones, they are equally if not more fantastic! These Nordic Stripe socks have Scandinavian inspired flowers on a black stripe are highlighted against beautiful background colors. They almost remind me of lederhosen, haha. They are so comfy and I love the little ruffle up top. I love the design because it's so simple yet one-of-a-kind, you know? I gave my mom the red pair because once I opened the box she had her eye on them and thought they were pretty sweet too and she loves them. I kept the purple ones for myself. :) But seriously, I love the style of them and they're equally comfy and cozy. You can tell these are also made with great quality and won't thin out anytime soon.
All in all, these socks are awesome! They're great for gifts as well as just for yourself. Definitely them out!
Buy It!
Head on over to
Ozone Socks' website
and browse the selection!
Win It! TWO winners will receive TWO pairs of socks of their choice!
1. Go to
Ozone Socks' website
and tell me which ones you'd like.
Please answer this question or else your comment will not count! You must do this first or future entries will not be counted.
(1 entry)
BONUS ENTRIES
2.
Follow Ozone Socks on Twitter.
(1 entry)
3.
Become a fan of Ozone Socks on Facebook.
(1 entry)
4. Follow starIMPULSE on blogger. (2 entries!)
5. Subscribe by Email and Confirm that Subscription (1 entry)
6. Follow me on Twitter. (1 entry)
7. Tweet about this giveaway and send me a direct link to that tweet, you can do this once a day. (1 entry per day)
8. Subscribe to my YouTube channel. (1 entry)
9. Add my StarIMPULSE button to your sidebar and send me think link to your blog so I can see it. (1 entry)
10. Add StarIMPULSE to your blogroll (using my URL), with a link back to me! (1 entry)
TWO winners will be chosen on August 16, 2010 at 5:00pm (EST) and then will be emailed.
Alternate winners will be chosen if winner does not respond after 48 hours. This contest is only open to all US and Canadian Residents. Thank you and good luck!
Disclaimer-
I was provided a product in exchange for my review.
You can read more about my blog policies in my disclaimer.