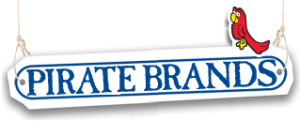 Hey everyone! So my next review and giveaway is for Pirate Brand's new snacks
Potato Flyers
. If you are a diehard follower of this here blog (if so, then thanks!) you may remember way back when this blog first began in late February/Early March I had a review and giveaway for Pirate Booty, you can check out that past review
here
. Since then I have become a huge fan of Pirate Booty, frequently buying it at the supermarket and at school, so I was more than happy to review their latest snacks: Potato Flyers. Potato Flyers are Great tasting, all-natural baked potato chips made in a variety of flavors with 120 calories per serving.
Once again, their packaging was fantastic. Instead of in a pirate chest, the Potato Flyers came in a suitcase, loved it.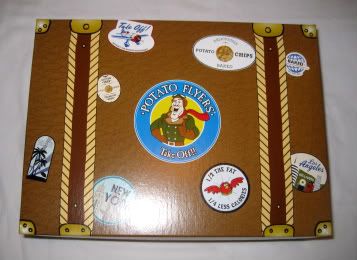 I received all of the flavors which are:
The Original
Sour Cream and Onion
Sea Salt and Vinegar
Barbeque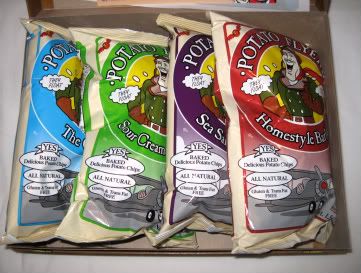 Now these aren't your average potato chip, in fact it isn't a potato chip. It's like in between Pirate's Booty and a potato chip. They're baked and more fluffy than a potato chip, also not as greasy. The flavor I noticed wasn't as much of a BANG as a potato chip but I liked it that way. Also, let me just say I thought hard for a favorite flavor out of all of them...but I just can't pick one. They're all SO delicious. I will tell you my least favorite: barbeque. But I hate anything barbeque and I actually gave the bag to my brother, he's a big BBQ fan, and he enjoyed them, me not so much. But if you're a barbeque flavor fan, I'm sure you'd enjoy it.
Another plus aside from they're DELICIOUS, is that they're healthy for you! Potato Flyers are 1/2 the fat and 3/4 the calories of a traditional potato chip. Also they're all natural and gluten and trans fat free! Hoorayyy!
Overall, although I didn't love them as much as Pirate Booty just because I think Pirate Booty is one of the most amazing snack foods ever created, these Potato Flyers still come pretty close. They're yummy and addictive, one bag is 1.5 servings...but you end up eating the whole bag just because they're that good! Definitely check these out!
Buy It!
You can either head on over to the Pirate Brands website and buy them at their
Online Store
, or hit up their
Store locator
to see if a store near you is selling some Potato Flyers!
Win It!
ONE winner will receive this pack of Potato Flyers for themselves!
1. Go to the
Potato Flyers Website
and comment on this post telling me what flavor you're most excited to try and why. Please answer this question or else your comment will not count! You must do this first or future entries will not be counted. (1 entry)
BONUS ENTRIES
2. Follow starIMPULSE on blogger. (2 entries!)
3. Subscribe by Email and Confirm that Subscription (1 entry)
4. Follow me on Twitter. (1 entry)
5. Tweet about this giveaway and send me a direct link to that tweet, you can do this once a day. (1 entry per day)
6. Subscribe to my YouTube channel. (1 entry)
7. Add my StarIMPULSE button to your sidebar and send me think link to your blog so I can see it. (1 entry)
8. Add StarIMPULSE to your blogroll (using my URL), with a link back to me! (1 entry)
ONE winner will be chosen on September 15, 2010 at 5:00pm (EST) and then will be emailed.
Alternate winners will be chosen if winner does not respond after 48 hours. This contest is only open to all US and Canadian Residents. Thank you and good luck!
Disclaimer-
I was provided a product in exchange for my review.
You can read more about my blog policies in my disclaimer.