Hey guys! So my next review and giveaway is for
Rudi's Organic Bakery
.
Rudi's Bakery has both an Organic bakery and a Gluten Free bakery also they are not only organic but kosher too! I received four awesome loaves and they were soo good!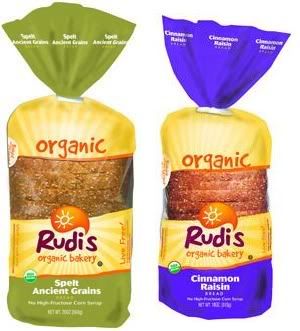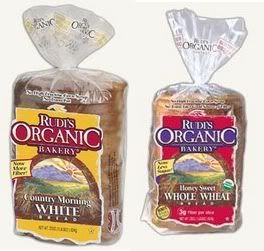 The Loaves I received were:

Cinnamon Raisin
Honey Sweet Whole Wheat
Spelt Ancient Grain
Country Morning White
I froze two of them as I ate the other two but seriously, it didn't take much long for my family to attack this bread. We are big bread people, whether it be sandwiches, just toast, or a snack with some cream cheese on it, we can't live without it. So these loaves were super awesome!
These loaves were great! They didn't taste weird or different from non-organic bread, if anything they tasted better! I specifically loved the Cinnamon Raisin and the Spelt Ancient Grain. I loved the White and Wheat too but I like trying different special flavors that are hard to come by, the wheat and white were great too though! I love Cinnamon Raisin bread though, it's great when you toast it and put some butter and cinnamon sugar on it, it's great with cream cheese, I loveee it. As the website says:
"Breakfast, lunch, dinner or dessert, whatever the occasion, make it a treat with a slice of cinnamon raisin. The organic plump raisins and savory sunflower seeds will please your taste buds while maintaining a healthy conscience."
The Spelt Ancient Grain was something I had never tried before and it was so delicious. As the website says:
"Think of it as having a spelt personality. The combination of spelt with by sesame, sunflower and flax seeds, makes it one of our most wholesome breads but it's still plenty nutty. You'll enjoy it toasted or just idly hugging your favorite sandwich."
It was super delicious with some garden vegetable cream cheese, yummm.
Overall, I really did love this bread! I loved that it had regular flavors but with a special kick to them like the Honey Sweet Whole Wheat which, for the most part tasted just like whole wheat but you can faintly taste the kick of the honey sweetness. On the website they have many more flavors too like Colorado Cracked Whole Wheat, Rocky Mountain Sourdough, Nut & Oat, and so much more! They also have buns, tortilla wraps, and other bread-products. Definitely check this out, especially if you love bread but want to try a healthier, organic bread.
Buy It!
Head on over to
Rudi's Bakery website
where you can buy them online or click on the product and see if a store sell them near you! Some products you can't find online and have to look to see if they sell them near you. When I searched it looks like Rudi's Bakery products are sold at many organic food stores but no chain stores, at least not near me, but check and see near you!
Win It!
TWO winners will receive 5 VIP Coupons for Rudi's Bakery Products!
1. Go to
Rudi's Bakery website
and tell me which product you'd like with your coupons.
Please answer this question or else your comment will not count! You must do this first or future entries will not be counted.
(1 entry)
BONUS ENTRIES
2.
Become a fan of Rudi's Bakery on Facebook.
(1 entry)
3. Follow starIMPULSE on blogger. (2 entries!)
4. Subscribe by Email and Confirm that Subscription (1 entry)
5. Follow me on Twitter. (1 entry)
6. Tweet about this giveaway and send me a direct link to that tweet, you can do this once a day. (1 entry per day)
7. Subscribe to my YouTube channel. (1 entry)
8. Add my StarIMPULSE button to your sidebar and send me think link to your blog so I can see it. (1 entry)
9. Add StarIMPULSE to your blogroll (using my URL), with a link back to me! (1 entry)
TWO winners will be chosen on August 20, 2010 at 5:00pm (EST) and then will be emailed.
Alternate winners will be chosen if winner does not respond after 48 hours. This contest is only open to all US and Canadian Residents. Thank you and good luck!
Disclaimer-
I was provided a product in exchange for my review.
You can read more about my blog policies in my disclaimer.