Hey everyone! My next review is for the
Village Tea Company
. Village Tea Company is this great tea company that have amazingly flavored teas and even have their own cafe in Texas. As the website says:
"The Village Tea Company is all about the escape from the everyday. We believe that in our lives, there is nothing better than kicking back with your family and friends over a fantastic cup of tea. Not just any tea, Village Tea."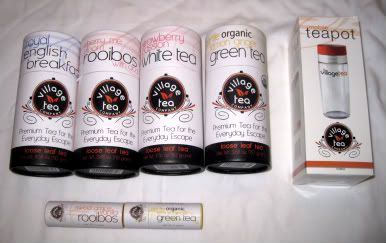 I received five different flavored teas, four were regular sized and two were in village teasers (the Gentle Organic Lemon Ginger was in both). I also received a mobile teapot too.
The flavors I received are:
Royal English Breakfast
Cherry Me Bloom
Sweet Grace Vanilla
Gentle Organic Lemon Ginger
Strawberry Passion

First off, I am so happy to find out that a mobile tea mug, much like a coffee one, exists. I'm a big tea drinker, not huge, like I don't have it everyday but fairly often. Sometimes when I'm sick and my throat is sore I drink tea constantly to make the soreness stop. It's very difficult though at work or school to get a good cup of tea because they don't put any lemon or honey in it. So now, if I do ever get sick, or if I just want to go out with a cup of tea I can do it! Hooray, it is insanely easy to use too, much like a regular teapot it has a filter up top so you put the loose leaf tea in and pour hot water over it, bam it's all ready! It's great!
Now, onto the tea. All of these flavors were so delicious and different, it was hard to choose favorites. But I loved the Sweet Grace Vanilla tea, I only recieved a teaser of it and let me tell you it is such a tease! Because it tastes sooo good I most definitely will run out soon, haha. But it's such a sweet, powerful flavor and not an artificial vanilla flavor because you know sometimes you can taste it if it's artificial? Like grape-flavored things, I hate them, I like grapes but not things that are flavored grape...but anyway. I loved it. I also loved the Cherry Me Bloom because I never had or even heard of a cherry-flavored tea before and again it was so sweet and delicious. Both of these teas are Rooibos tea which means it's naturally caffeine free and antioxidant free. So they're great to drink before bedtime and won't keep you up. The Strawberry Passion was great too, but I'm not a huge fan of strawberries, I know I'm one of the few people that don't like them that much, but my brother loveeed it.
I liked the English Breakfast too, but I've had it before so that's why it wasn't my favorites. I like new and exciting flavors that I've never tried before. But this tea is great for a basic "I just want tea" tea, you know? My mom was a big fan. The ony tea I didn't like much was the Gentle Organic Lemon Ginger, it just tasted weird to me. I think it's because I'm not a big Ginger fan, I've had something that was flavored ginger recently and also didn't really like it. I liked Ginger my dog and Ginger Spice from the Spice Girls, but just not real ginger, hahaha.
Another great thing about this company though is that the teas come is packed in 2 100% non bleached cotton muslin bag. Also the tea's package is made of 100% recycled and recyclable packaging. And if you're not a big loose leaf tea fan don't fret, because each package comes with ten 100% natural paper filters are provided so that you can make your own personal tea bag based on your taste. Which I think is great because you know getting a tea pot out and then washing it after is such a hassle, yeah I am lazy sometimes, haha, so it's awesome that these little tea bags come in the packaging in case I do get lazy and just want to dunk a tea bag in a cup.
All in all, this is an amazing company especially for tea lovers. They have a variety of teas to choose from and you can even buy little samplers to try out a flavor before you buy a big package of it. The samplers are only $3.50 as compared to $9.95 to $12.95. Definitely check it out!
Buy It!
Head on over to the
Village Tea Company's website
and browse their selection. If you love tea, you will not be disappointed!