Hey everyone! So my next review is for
Wholesale Costume Club
. Halloween is coming up, it's pretty much a month away. Have you guys picked out what you're going to be this year? I sure have! Wholesale Costume Club is a great website to buy
costumes for Halloween
and believe you me if you're stumped with what to be for Halloween there's so many costumes here you are bound to get a magnificent idea. I received the
High Society Blonde Wig
in the mail to review.
Now does this have to do with my costume at all? Nope. Mainly because I didn't know what I was going to be yet for Halloween before picking this. But I do like wigs, I have a
YouTube
channel and thought I haven't updated it in 2 months, I do like using wigs for sketches and such. This wig once I saw it I immediately thought of a funny sketch, it's not up yet, but it will be soon.
I was a tad bit disappointed with the wig though, I expected to be a bit more poofy as it showed in the picture, instead it kind looked just like my hair but more shiny and with a haircut. But I mean when has ever a wig actually looked like its picture? Much like fast food burgers, pictures tend to exaggerate. I should've known better. Still it works, plus I'm sure once I add some costume and character the wig will be brought to life, you know? With glasses and makeup-less face it looks kind of dull, you just gotta liven it up a bit.
Either way, it took me a few hours, no maybe a few days to pick a wig out. There were so many I wanted because there was sooooo much to choose from. They have almost any kind of
costume wig
you can imagine, seriously. Much like their costumes which are crazy! I didn't even bother to look at them all because I would've been stumped for weeks as to what to choose. Some favorites that I did see were Lady Gaga ones. Hahaha, yes. Lady Gaga actually has costume costumes now. In a way, that kind of makes me really glad I was her last year for Halloween and made my own (with the generous help of my flatmates). I'm going to have to go ahead and say it was the best costume I've ever had and I was Oprah and Ace Ventura in previous years. But I was mobbed in Leicester Square and treated as if I was an actual celebrity, it was great, so yeah that was the best. Here's me as Gaga: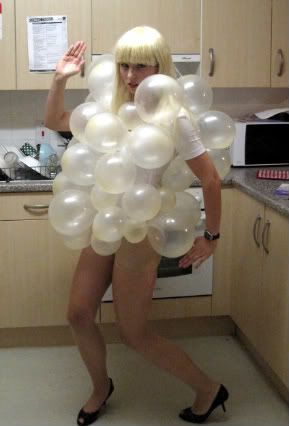 As you can tell, I'm a HUGE fan of Halloween. It might even be my favorite holiday.
Anyway, back to the review. If you love dressing up as much as I do...or maybe not as much but still enjoy it enough, this site is where it's at. I don't know how many times I can reiterate this, but they have EVERYTHING. Think of a Halloween costume, they have it. From Sarah Palin to a Socket and Plug couples costume. EVERYTHING. It is awesome. And pretty reasonably priced too. If you become a member (which is a mere $5 a year) you save an incredible amount. For instance, the Socket and Plug costumes? Retail price: $69.99 Member price: $32.46. Danggg!!
Definitely, definitely check this out! Halloween is coming up, you need a costume! This is where you should buy it from! I am not lying when I say there is literally something for everyone, haha.
Buy It!
Head on over to
Wholesale Costume Club's website
and browse their ginormous selection. But be warned, you will be there for hours, mesmerized by all their stuff, hahaha.