Hey everyone! I hope you had a lovely holiday and you're getting pumped for 2011. One negative about this time of year is the weather, I hate it, we had a blizzard here last week and yeah, I prefer much warmer climates. I hate how the weather dries out your skin too, my nose and hands always get the worst of it. But why not try and prevent that dryness with some
Eucerin Calming Cream and Body Wash
!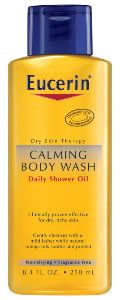 Have you ever wondered exactly what made Rudolph's nose shine and glow so much? If you ask a skin care expert, they would probably say he has symptoms of dry, irritated skin from the cold winter weather. December's Skin FIRST Movement Update is about keeping the cold winter weather from hurting your skin – as well as treating the inevitable dry skin patch. So would you be put on Santa's skin care "naughty" or "nice" list based on your current habits? Here are some tips to help you get on the "nice" list and stay there:
Nice:
- Wear gloves in the winter to protect your hands against environmental elements.
- When washing the dishes or doing laundry, protect your skin with protective gloves, shielding your hands from chemicals and excess water.
Naughty:
- Do you use daily moisturizer for your dry, itchy skin? If you don't, frequent scratching could lead to skin irritation and possibly infection, and no one wants to feel uncomfortable around the holidays. Be sure to use an oil-based moisturizer during the Winter to keep skin moisturized such as Eucerin Original or Eucerin Plus lotions.
- Now that summer is gone, do you decrease the amount of times you exfoliate? In the cold winter months, you should actually increase exfoliation.
- What type of cleanser do you use? Many soaps are alkaline, which can be irritating to unhealthy skin and lead to a condition called alkali eczema, resulting in itching, redness, small bumps and flaking. To reduce their drying properties, many soaps contain added fats like lanolin and paraffin and/or lactic or citric acid – so always look at the label before you buy! Soap free cleansers like Eucerin Calming Body Wash are great for this time of year and the Eucerin Calming Crème can be used to break the itch/scratch cycle.
Eucerin's Calming Body Wash and Calming Crème can help with itchy, dry winter skin when used regularly. Make an early resolution to yourself to make it on the "nice" list next year by making 2011 the year you put your skin first. To get started, take the Skin FIRST Pledge
found here
.
I really loved the cream and body wash. They're both very gentle and really do help with dry skin. The body wash is very watery but lathers up very well. It helps out so much during this season, especially with my hands and my nose which always are very dry. Also, for the cream, it doesn't have that stickiness that some lotions do have after you put it on. It drys smooth.
Definitely another win for Eucerin. Awesome cream and body wash and I use them both all the time now. Definitely check them out, especially if you have dry skin around this time of year.
Buy It!
Head on over to
Eucerin's Where to Buy page
and see what store is selling it near you! Near me it's sold at CVS, Rite Aid, and Kmart!
Win It!
ONE winner will receive a bottle of Eucerin Plus Soothing Essentials and Hand Creme!
1. Go to
Eucerin's website
and comment on this post telling me a fact you learned. Please answer this question or else your comment will not count! You must do this first or future entries will not be counted. (1 entry)
BONUS ENTRIES
2. Take the
Skin First Pledge
.
3. Follow starIMPULSE on blogger. (2 entries!)
4. Subscribe by Email and Confirm that Subscription (1 entry)
5. Follow me on Twitter. (1 entry)
6. Tweet about this giveaway and send me a direct link to that tweet, you can do this once a day. (1 entry per day)
7. Subscribe to my YouTube channel. (1 entry)
8. Add my StarIMPULSE button to your sidebar and send me think link to your blog so I can see it. (1 entry)
9. Add StarIMPULSE to your blogroll (using my URL), with a link back to me! (1 entry)
ONE winner will be chosen on January 14, 2011 at 5:00pm (EST) and then will be emailed.
Alternate winners will be chosen if winner does not respond after 48 hours. This contest is only open to all US Residents. Thank you and good luck!
Disclaimer-
I was provided a product in exchange for my review.
You can read more about my blog policies in my disclaimer.