Hey everyone! So my next review and giveaway is for Gourmet Gift Basket's Holiday Sweets and Treats Snowflake Tin!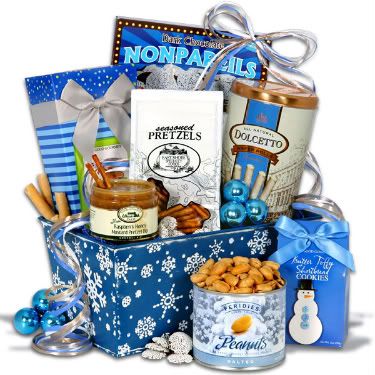 This tin contains award-winning snacks such as dark chocolate nonpareils, butter toffee shortbread cookies, lightly salted Virginia peanuts, raspberry honey mustard pretzel dip, seasoned dipping pretzels, gingerbread cookies, and sinfully delicious vanilla wafer rolls. Yummm!
I love this tin! I love that it isn't your average gift basket but instead has a cute little tin that you can use after you've devoured every delicious snack inside. We all know and love gourmet gift baskets, they're basically the go-to gift for that second cousin you don't know too well but still exchange gifts with just because it's the holidays and you exchange gifts with eeeverrry relative! Hahaha. No but seriously, with this variety of snacks from chocolate to pretzels, I can't promise that you or your relative will love everything in the tin but you/your relative will love at least something and the rest you/your relative can give to other family members to eat! Works out both ways right?
That is how it went down in my house, at least. I'm not a huge fan of raspberry honey mustard dip but my dad is, he devored the pretzels. I attacked the gingerbread cookies and dark chocolate nonpareils. While everyone pretty much enjoyed the peanuts and the rest. My mom also was very excited about the tin because she's crafty like that. But everything was so delicious!
This is definitely a fantastic gift for the holidays, whether you just want it for yourself or need it to give to a relative, check it out. Definitely check out Gourmet Gift Baskets' entire site, they have a huge variety of gift baskets for every holiday and event. I can almost guarantee there is a gift basket for everyone at Gourmet Gift Baskets!
Buy It!
Head on over to Gourmet Gift Baskets' website and browse their huge selection!
Win It!
ONE winner will receive a Gourmet Gift Basket's Sweets and Treats Snowflake Tin!
1. Like
Gourmet Gift Basket's facebook page
. Comment below telling me you did so.
Please do these entries first or else your comment will not count! You must do this first or future entries will not be counted.
(1 entry)
BONUS ENTRIES
2. Post on Gourmet Gift Basket's facebook wall saying what gift basket you'd like to try in the future. Comment below telling me you did so. (1 entry)
3. Subscribe by Email and Confirm that Subscription (1 entry)
4. Follow me on Twitter. (1 entry)
5. Tweet about this giveaway and send me a direct link to that tweet, you can do this once a day. (1 entry per day)
6. Subscribe to my YouTube channel. (1 entry)
7. Add my StarIMPULSE button to your sidebar and send me think link to your blog so I can see it. (1 entry)
8. Add StarIMPULSE to your blogroll (using my URL), with a link back to me! (1 entry)
9. Blog about this post. Comment below linking me to your blog. (1 entry)
FOR FIVE BONUS ENTRIES:
10. Follow starIMPULSE on blogger. Comment five times below saying you did so. (5 entries!!)
ONE winner will be chosen on December 15, 2010 at 8:00pm (EST) and then will be emailed.
Alternate winners will be chosen if winner does not respond after 48 hours. This contest is only open to all US and Canadian Residents. Thank you and good luck!
Disclaimer-
I was provided a product in exchange for my review.
You can read more about my blog policies in my disclaimer.