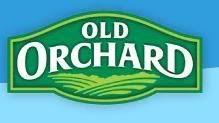 Hey everyone! So my next review is for
Cranberry Naturals by Old Orchard
. Cranberry Naturals is a great line of cranberry juice cocktails that are all-natural, reduced-calorie cranberry juice cocktails, sweetened with a blend of sugar and Truvia™ - No HFCS, no artificial colors, flavors or preservatives.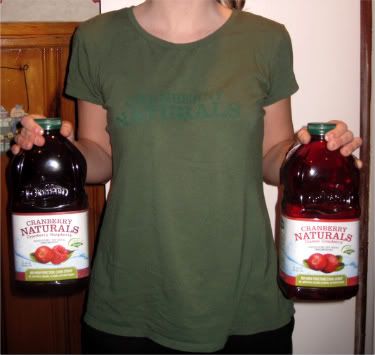 The flavors I received were:
Classic Cranberry
Cranberry Raspberry
I also received a cool t-shirt too, and I like that they didn't just give like XL sizes out to everyone like a lot of times when you get a free t-shirt that's what they do, they gave me a M and it fit pretty well! They also gave me two coupons for more juice, they're in the shape of the juice bottles which are really cute but not cute enough for me to keep them, because I am definitely using these babies! Why? Because these Cranberry Naturals were delicious!
While I am not a huge fan of raspberry-flavored things, this drink wasn't so bad. I think the tartness of the cranberry helped the subdue the flavor the raspberry so it wasn't so strong and got me to like it a bit. My dad really enjoyed this flavor though, he is a big fan of raspberry flavored anything as well as cranberry juice cocktail, so it was a great product made for him!
The classic cranberry was really great too. I'm a huge fan of cranberry juice cocktail, for one, not gonna lie, it's a great chaser, but also it's good for you. But sometimes you will have to use that "good for you" term loosely, because a lot of them like ocean spray and such have soo much sugar in it which ups the calories and lessens the healthiness. Which is great that this one only has 70 calories per seriving. It's all natural and reduced-calories. What's even better is that I felt like this flavor tastes a lot better than the other popular brand names out there. It's not as sugary sweet that makes you still feel like your thirsty like some cranberry juice cocktails and sodas do. This is very refreshing and a great thirst quencher.
Overall, I really enjoyed Cranberry Naturals. First of all, because of their packaging and great presentation of their products, but more importantly because the products were delicious. Much healither and overall better than the other cranberry juice cocktails out there. Definitely check them out, you won't be disappointed!
Buy It!
Head on over to
Old Orchard Cranberry Natural's website
and browse their other flavors. They have Cranberry Apple, Cranberry Blueberry, and more! There's definitely a flavor for everyone! Well, unless you don't like cranberry, hahaha. Scroll down to the bottom, put in your zip code, and see if there's a store near you that sells them!