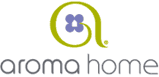 Hey everyone! So my next review and giveaway is for
Aroma Home
. If you're looking for anything hot, huggable, or fragrant, you need to hit up Aroma Home. Aroma Home designs high-quality body comforts, an adorable range of character slippers & warmers and original products for home that are great as gifts or as a special treat for you.
I received the most amazing pair of slipper socks in the world.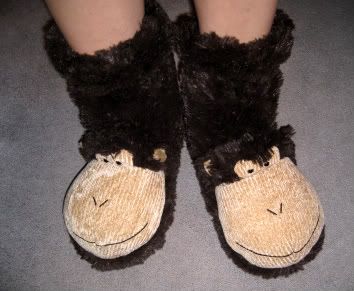 No, your eyes aren't playing tricks on you, those are in fact monkey slipper socks and they are awesome.
Not going to lie, the term "slipper sock" kind of makes me nervous because I like my feel warm, I've had those you know patterned slipper socks that you get at stores that also sell tie-dye shirts and incense (
these
). And they're not warm at all. But I thought these were adorable and I did need new slippers, so I tried them out. And you know what? They are so not your average slipper sock.
I would say they're slippers on the bottom but up top their like fuzzy-thick awesome socks. Inside they're all fuzzy, too. They're so warm too that you really can be barefoot and these will warm your feet right up. Trust me, I'm not lying because I am a pest with warm feet. I can be freezing anywhere else, but if my feet are cold then my life is ruined, in a dramatic sense but you understand.
They're also one size fits most up to 9.5, which also worried me because I'm 7.5 and I didn't want them to be too big, but they're actually a really nice size. The inside is so fuzzy and cushiony you don't really notice how much larger they are and the top has an elastic so it stays up. They are awesome, my feet and myself are in love.
But Aroma Home also has body warmers (regular shaped and also in shape of animals, so cute!), feet warmers, various other slippers, screen wipes (in shape of animals) and much more. I love this website, but then again if you have anything in the shape of an animal I'm probably going to love it, I just think they're so cute. What can I say? My inner child never grew up.
Definitely check out Aroma Home, they would make fantastic gifts for men and women and of course children too! They're so unique and relaxing, anyone would seriously love what you give them from this website.
Buy It!
Head on over to
Aroma Home's website
and browse the selection. Aroma Home was awesome enough to give you guys 10% if you use the the promo code
"IMPULSE"
on your order, promo code expires February 25th.
Win It!
ONE winner will receive a pair of Monkey Socks for themselves!
1. Go to
Aroma Home's website
and comment on this post telling me what product you like to try in the future.
Please answer this question or else your comment will not count! You must do this first or future entries will not be counted.
(1 entry)
BONUS ENTRIES
2.
Follow Aroma Home on Twitter.
(1 entry)
3.
Become a fan of Aroma Home on Facebook.
(1 entry)
4. Follow starIMPULSE on blogger. (2 entries!)
5. Subscribe by Email and Confirm that Subscription (1 entry)
6. Follow me on Twitter. (1 entry)
7. Tweet about this giveaway and send me a direct link to that tweet, you can do this once a day. (1 entry per day)
8.Subscribe to my YouTube channel. (1 entry)
9. Add my StarIMPULSE button to your sidebar and send me think link to your blog so I can see it. (1 entry)
10. Add StarIMPULSE to your blogroll (using my URL), with a link back to me! (1 entry)
ONE winner will be chosen on February 18, 2011 at 10:00pm (EST) and then will be emailed.
Alternate winners will be chosen if winner does not respond after 48 hours. This contest is only open to all US and Canadian Residents. Thank you and good luck!
Disclaimer-
I was provided a product in exchange for my review.
You can read more about my blog policies in my disclaimer.