Hey everyone! So my next review is for
Eco Vessel
. Eco Vessel is a great stainless steel water bottle company. As their website says, they are dedicated to
developing products from safe, sturdy, recyclable materials while offering innovation and practicality. They produce a complete line of stainless steel water bottles for both adults and children. You can feel secure knowing that our 100% recyclable, BPA free bottles are made of high quality, non-leaching materials and are designed for your safety, ease of use and convenience. Our product line includes single wall and insulated steel water bottles, filtered stainless steel water bottles, and stainless steel sippy bottles and cups."
What's great is that the have a huge variety of styles of stainless steel
water bottles from sippy cups for kids to filtered bottles to insulated bottles. I was able to try their Stainless Steel Bottles with Sport Flo Cap - 25 Ounces in Boulder Blue.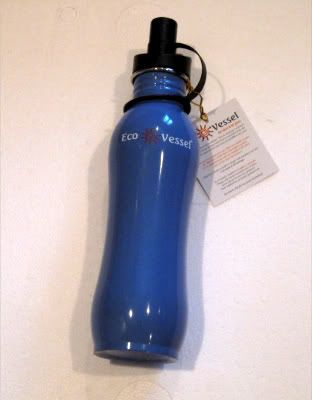 I chose this one because of the Sport Flo Cap, I have a Naglene bottle that
is just a pop up thing and I miss those sports caps. I really like it, I didn't realize how large it was going to be which is awesome. I take it with me to the gym and it's less time refilling. I'm a fan of the skinny big bottles like this not the fat big ones just because there's a lot of water in this and it is still easy to travel with. I wish the Sport Flo cap was a little easier to use though, you really have to suck to get the water out. But, maybe it's because I'm used to the old Sport Flo Caps back in the day with the plastic water bottles and you would just squeeze the plastic bottle and it would come out, but this is metal and you cannot squeeze it, so you have to suck it more. Hey, it's still worth it. Stainless Steel water bottles are better for you and the environment so I'd take this baby over my old squeezy water bottle anyday
Using plastic water bottles is expensive, wasteful and unnecessary. Sadly, more than 80% of these bottles are not even recycled but simply thrown away, which creates more than a million tons of waste each year. Treat yourself and your family to our good looking, eco-friendly products while you help heal our planet.
Also, Eco Vessel is a very charitable organization too. As the website says:
"Part of our mission and passion is to support organizations that work to provide clean drinking water around the world. By purchasing products from Eco Vessel, you too are helping to support great organizations such as Water for People and The Unicef Tap Project."
Overall, I really enjoy the water bottles Eco Vessel has as well as what they stand for. Definitely a great company to buy from because you know you're helping out, even just a little bit.
Buy It!
Head on over to
Eco Vessel's website
and browse their selection!