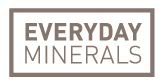 Hey everyone! So my next review and giveaway is for
Everyday Minerals
. Everyday Minerals is a great all-natural, organic, vegan makeup company. They specialize in healthy, affordable, and sustainable products with a premium quality and an innovative collection of vibrant colors and shades. I was sent an assortment of their wonderful makeup to review!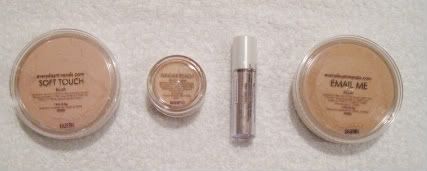 The products I received:
Email Me matte for cheeks
Soft Touch matte for cheeks
Ginger Peach shimmer for eyes
Smokey Pink shimmer for eyes in the travel size

What I first liked about this company was that they asked me to describe my skin tone and they sent me products based on what I told them. I really like that they did this because they have such a huge selection of products, if they asked me to pick what I wanted I would have no clue where to begin. Plus, I'm not super makeup knowledgable especially with blushes and stuff like that, I probably would've picked a horrible color. So thank you Everyday Minerals for practically doing all the work for me. Sometimes it's fun to pick out products that you like but other times it's great to be surprised and this was definitely the latter.
Now, onto the reviews. I really liked the blushes. I sometimes have trouble picking out blush. Either they're too light and I still look pale or its too dark and just looks like it's too much on. These are great, they're great mediums. Blush you really can use everyday for either going out or going to work. There isn't a huge difference in color, they're pretty similar in color but the Email Me is more brown/tan based while the Soft Touch is more pink based. But I really enjoyed both of them.
Also, I've bought mineral-based makeup before and not gonna lie, they're pretty messy. Especially when you're traveling with them, they just sift through and you have to be super carefully putting them on the brush or else you'll over do it on your face. So I was super excited when I saw that with the Everyday Minerals blushes they kind of have this protector that covers up the holes when you're done. Super helpful and every mineral company needs to start doing this, it helps so much!
Now, the eyeshadows, both of them are pretty shiny, lots of glitter. I really liked the Ginger Peach, it's a very simple pretty color, it brings out my hazel eyes. It's a very light tan/peach color but it's great because you can wear it solo just for everyday use or mix it with other colors for a night now and it still looks great. Definitely my favorite of the two. The Smokey Pink is in the travel size and I was pretty excited to try this roll on eyeshadow, I had never actually heard of that before. But I was kind of disappointed. I had a difficult time putting the color on, I feel like you need to use a lot of product to really see the color or else it's just sparkles. I feel like I would like to try the travel size again but in a darker shade to see if it's different being that this was a lighter shade. Definitely a great idea though, especially for mineral makeup, super easy to use and no mess, but you just need to use a lot of it.
Overall though I really have become a fan of Everyday Minerals. You can tell this is a great company with great quality makeup. They have a dedicated consumer base too, I've watched YouTube videos and read reviews and everyone seems to be in agreement that they're products are really great. They have such an array of wonderful colors and shades, especially their eyeshadows, and they're all like $7. You really can't go wrong for that price. Definitely check them out, you won't be disappointed. I definitely plan on buying their products in the future, especially their eyeshadows, so prettttty.
Buy It!
Head on over to
Everyday Minerals' website
and browse their awesome selection.
Win It!
ONE winner will receive an
Everyday Elements Water Kit
! This collection is reminiscent of still waters, sparkly silvers complimented by midnight blue.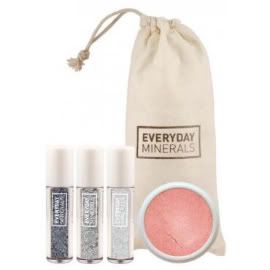 1. Go to
Everyday Minerals' website
and comment on this post telling me what product you'd like to try in the future.
Please answer this question or else your comment will not count! You must do this first or future entries will not be counted.
(1 entry)
BONUS ENTRIES
2. Follow starIMPULSE on blogger. (2 entries!)
3. Subscribe by Email and Confirm that Subscription (1 entry)
4. Follow me on Twitter. (1 entry)
5. Tweet about this giveaway and send me a direct link to that tweet, you can do this once a day. (1 entry per day)
6.Subscribe to my YouTube channel. (1 entry)
7. Add my StarIMPULSE button to your sidebar and send me think link to your blog so I can see it. (1 entry)
8. Add StarIMPULSE to your blogroll (using my URL), with a link back to me! (1 entry)
ONE winners will be chosen on February 27, 2011 at 5:00pm(EST) and then will be emailed.
Alternate winners will be chosen if winner does not respond after 48 hours. This contest is only open to all US Residents. Thank you and good luck!
Disclaimer-
I was provided a product in exchange for my review.
You can read more about my blog policies in my disclaimer.