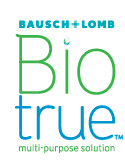 Hey everyone so my next review and giveaway is for
Bausch + Lomb's Biotrue.
Biotrue is a great multi-purpose contact lens solution. As the website says:
"Biotrue is inspired by the biology of your eyes™. It goes beyond cleaning by being the only* solution to bring together three bio-inspired innovations:

* Has a lubricant found naturally in your eyes
* Matches the pH of healthy tears
* Keeps certain beneficial tear proteins active

Biotrue works like your eyes to provide you with the health and comfort your eyes deserve, helping to make lens wear easier on your eyes.
I received a sample of BioTrue along with an awesome reusable tote bag to giveaway.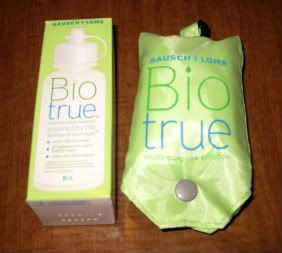 I wear my contacts all the time, the only time I wear my glasses is when I feel like slumming it at work on weekends or just slumming in general. So I need a really great contact solution and Biotrue is definitely one of them. I was really surprised because honestly I wasn't expecting to notice a difference and I actually did. I noticed when trying out Biotrue that my eyes didn't dry out as quick as they usually did with my regular solution and just felt less irritating in general. They were easier to put in my eyes and just easier to wear for longer hours.
Another great perk is that the sample came with an awesome reusable tote. The tote actually comes with a tiny case that you can fold it up in. I was skeptical with just how easy was it going to be to fold the bag back into the little case, so I tested it out a few times and it works. It is very simple and super handy. You can throw this reusable tote in your purse to keep in handy because it's so small and compact. Great for those little emergency store runs when the bag breaks and you need another and voila! You got one!
Definitely check out Biotrue and just the Bausch + Lomb brand in general, they typically never disappoint.

To celebrate their latest innovation, Biotrue, Bausch + Lomb will be giving away 300 reusable tote bags a day beginning Sunday, February 27th. To enter, just visit
their website here
to play the instant win game. Not a winner? No problem, just come back the next day to try your luck again! The game will be live for 30 days, meaning over 9,000 lucky Biotrue fans will be winners before Sunday, March 27th.
Buy It!
Head on over to
local retailer
and purchase it there. Be sure to use this
$1.00 off coupon
for your purchase!
Win It!
THREE winners will receive ONE reusable tote bag each for themselves!
1. Head on over to
Biotrue's website
and tell me a fun fact you've learned.
Please do these entries first or else your comment will not count! You must do this first or future entries will not be counted.
(1 entry)
BONUS ENTRIES
2. Follow starIMPULSE on Google Friend Connect/Blogger. (2 entries)
3. Subscribe by Email and Confirm that Subscription (1 entry)
4. Follow me on Twitter. (1 entry)
5. Tweet about this giveaway and send me a direct link to that tweet, you can do this once a day. (1 entry per day)
6. Subscribe to my YouTube channel. (1 entry)
7. Add my StarIMPULSE button to your sidebar and send me think link to your blog so I can see it. (1 entry)
8. Add StarIMPULSE to your blogroll (using my URL), with a link back to me! (1 entry)
9. Blog about this post. Comment below linking me to your blog. (1 entry)
THREE winners will be chosen on April 5th, 2011 at 5:00PM (EST) and then will be emailed.
Alternate winners will be chosen if winner does not respond after 48 hours. This contest is only open to all US. Thank you and good luck!
Disclaimer-
I was provided a product in exchange for my review.
You can read more about my blog policies in my disclaimer.