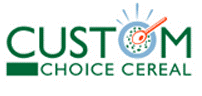 Hey everyone! So my next review and giveaway is for
Custom Choice Cereal
. Custom Choice Cereal was founded with the mission to make living gluten-free a fun, tasty and enjoyable experience. They are a great company where you can create your own gluten free cereal, you can name it and everything. It is super easy to navigate too, just click on what you want, click next, and bam! Yummy cereal!
Naturally, the cereal I created is
"Kelly's Krunch"
.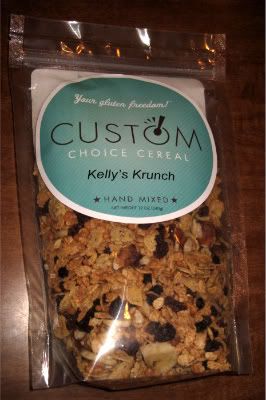 The ingredients I used in my cereal are:
Cinnamon Granola
Banana Chips
Organic Wild Blueberries
Raisins
Walnuts
Organic Good Morning Flakes
As you can see, I like a lot of variety in my cereal and with Custom Choice Cereal you can have that! There's over 1.8 billion combination possibilities of dried fruits, nuts, and seeds let your dream come to life at the breakfast table! An automatically updating nutrition label keeps updating as you keep mixing so you know just the right amount of what calories and nutrition is in your cereal.
I am a huge fan of cereal, seriously, I eat it a minimum of 4 or 5 days out of the week for breakfast. I love trying new ones, crunchy ones but they still have to be sweet. I love crunchy granola ones but I love fruity ones too, so that's why I created this scrumptious cereal. This website is insanely awesome. To be able to mix a bunch of choices into one delicious cereal just makes your morning decision of what type of cereal to eat so much easier because you just have that one with everything in it! Well at least for me. They have so many choices and they're reasonably priced. It tastes delicious too! Maybe because I created it, hahaha, just kidding.
I'm also happy that they weren't stingy with any of my ingredients, everything seemed to have the right amount, there wasn't less of much, which is awesome. I used to eat Blueberry Morning and sometimes had to DIG for some blueberries. Seriously.
If you are interested in the gluten-free aspect, Custom Choice also has an advisory team and one member is well-known to the celiac and gluten-free arena, Dr. Stephen Wangen (author of Healthier without Wheat and The Irritable Bowel Syndrome Solution). Every first Wednesday of the month, Dr. Wangen answers five questions from consumers on the Custom Choice Cereal blog.
You can also create your own granola, trail, or even just dried fruit mixes. I seriously really love this website. Such a great idea! Definitely check out this website, especially if you're a cereal fan, you won't be disappointed!
Buy It!
Head on over to
Custom Choice Cereal's website
and start creating!
Win It!
ONE winner will receive their own Custom Choice Cereal creation!
1. Go to
Custom Choice Cereal's website
and comment on this post telling me what ingredients you'd put in your cereal.
Please answer this question or else your comment will not count! You must do this first or future entries will not be counted.
(1 entry)
BONUS ENTRIES
2.
"Like" Custom Choice Cereal on facebook.
(1 entry)
3.
Follow Custom Choice Cereal on Facebook.
(1 entry)
4. Follow starIMPULSE on Google Friend Connect/Blogger. (2 entries!)
5. Subscribe by Email and Confirm that Subscription (1 entry)
6. Follow me on Twitter. (1 entry)
7. Send out this tweet: "I love custom #glutenfree #cereal from @customcereal and @hollyweirdo" and send me a direct link to that tweet, you can do this once a day. (1 entry per day)
8.Subscribe to my YouTube channel. (1 entry)
9. Add my StarIMPULSE button to your sidebar and send me think link to your blog so I can see it. (1 entry)
10. Add StarIMPULSE to your blogroll (using my URL), with a link back to me! (1 entry)
ONE winner will be chosen on March 16th, 2011 at 5:00pm(EST) and then will be emailed.
Alternate winners will be chosen if winner does not respond after 48 hours. This contest is only open to all continental US Residents. Thank you and good luck!
Disclaimer-
I was provided a product in exchange for my review.
You can read more about my blog policies in my disclaimer.
Please click here to vote for me in the Beach Blogger contest!