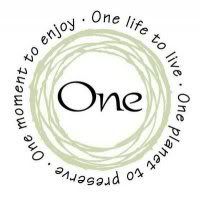 Hey everyone! So my next review is for
One Bath and Body
. As the website says:
"While some green brands stop at natural ingredients, ONE goes beyond healthy formulations by housing the collection in eco-conscious packaging. Because most recycling centers wont accept used plastic lotion and shampoo bottles that take over 1,000 years to biodegrade ONE exclusively packages its unprecedented collection in recyclable cardboard cartons and tins, housing nourishing, natural products in equally planet-friendly containers. ONE takes eco-conscious to the next level, uniting superior natural ingredients and recyclable packaging to offer genuinely earth-friendly products. From pampering bath formulas to nourishing moisturizers, the entire collection is infused with rich essential oils, natural butters and delicate fragrance, energizing the mind and body with quality natural ingredients."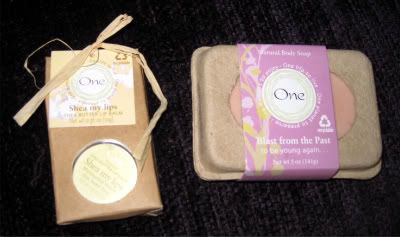 I received the
Shea my Lips - Shea Butter Lip Balm
and the
Blast from the Past - Natural Body Soap
.
The Shea Lip Balm is formulated with shea butter (obviously) to moisturize and heal those tired, dry lips. It's great for this time of year, when winter turns into spring and the rain and wind start coming. I'm usually not a fan of lip balms that you have to scoop up with your fingers just because I always would get too much and/or they'd be too sticky. This one I really like though. It's very smooth and really heals my lips. Usually you have to continue re-coating your lips after it dries off because your lips still feel dry. Not with this one. I really like it.
Blast from the Past soap was really great too. I'm not sure what scents are in it, probably should've look at the ingredients before throwing the packaging away, but it's really great. A little floraly but not super perfumey like some soaps are. Very soothing and works great on your skin. It doesn't dry out and lathers up easily. More importantly, it lasts a while too, some natural soaps I've noticed don't last that long and quickly dissolve or whatever. This bar was super solid and lasted for a long time.
Definitely check out One Bath and Body, they have a variety of products from the ones above to solid shampoos, bath salts, sponges, and much more! If you love bath and body products and going green!
Buy It!
Head on over to
One Bath and Body's website
and browse the selection!
Disclaimer-
I was provided a product in exchange for my review.
You can read more about my blog policies in my disclaimer.