Hey everyone! So my next review is for
Take 10 Beverages
. Take 10 Beverages is pretty much the opposite of energy drinks. These beverages help you take the time to calm down and relax in your fast-paced life.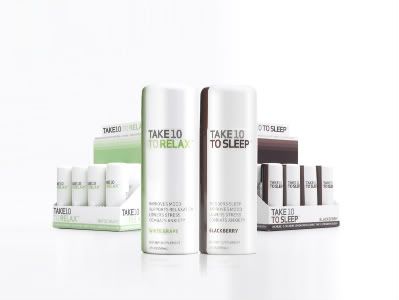 They have two beverages
Take 10 To Relax
and
Take 10 To Sleep
. Both have zero calories, sugars, and carbs and are made of natural herbal ingredients.
As the website says:
"TAKE 10™ TO RELAX has a great and soothing taste combined with a curve-busting, proprietary blend of 875mg of effective herbal ingredients. It's herbal blend reduces mental and physical stress, allows for feelings of relaxation, improves cognition and mood, mild muscle relaxant effects, prevents fatigue and curbs anxiety.

TAKE 10™ TO SLEEP is a proprietary blend that contains 630mg of effective herbal ingredients to relax muscles, induce a sense of well-being, and fight restlessness. TAKE 10™ TO SLEEP triggers sleep and helps you stay asleep, all night.

And, don't worry about waking up feeling groggy or hung-over. TAKE 10™ is all-natural with no side-effects."
I actually had my brother try these because I have no trouble relaxing and passing out where ever. My brother on the other hand never has a good night's sleep and has trouble relaxing in general so he volunteered to try them. He immediately tried the To Relax after a hard night's work and he said that it did relax him very well. He just chilled out on his bed and watched television, definitely calmed him down.
He later tried the To Sleep which he said worked a bit, but he did wake up a few times during the night but he slept better than he usually does, he said.
Overall, he was pretty impressed with both of the drinks. He also said that they both tasted pretty good, no weird aftertaste or anything. Definitely check out the Take 10 Beverages if you have trouble relaxing and sleeping, it is definitely worth a try.
Buy It!
Head on over to
Take 10 Beverages
and check out their beverages.
Disclaimer-
I was provided a product in exchange for my review.
You can read more about my blog policies in my disclaimer.