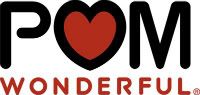 Hey everyone! So my next review is for
POM Wonderful
. POM wonderful is a great juice company that has a variety of pomegranate flavors but is most known for their 100% pomegranate juice.
I got to try their 100% pomegranate juice. It is 100% juice, all natural, no added sugars or artificial flavors. Pomegranate juice is high in antioxidants, too!
As their website says:
"POM Wonderful is a global brand committed to innovation and wellness. We grow and market pomegranates and pomegranate-based products that are healthy, honest and essential to the well-being of humankind.

Ours is the only company that grows, harvests, processes and ships our own pomegranates. Plus, we're the only pomegranate company that has provided over $34M in funding to support scientific research on Wonderful variety pomegranate products at top institutions around the globe."
I'm a big fan of pomegranate juice, especially POM Wonderful. The juice is a perfect mixture of tart and sweet. It is a great healthy alternative to soda if you're in the mood for drinking something sweet.
I also decided to make some yummy POM pancakes which will be my next Meatless Monday recipe, and let me tell you they were so delicious! All you need is a cup of some yummy pomegranate juice to mix into the recipe and it is soo good! The pancakes are a weird blueish color but they're kind of cool looking like that, haha. I topped them with some fresh strawberries, blueberries, powdered sugar and a squirt of sugar free syrup. They were pretty sweet in general so you really don't need to drown them in syrup like I tend to do with most pancakes. Very yummy and a nice alternative to the average pancake and a nice addition to the fruit pancakes, haha.
Buy It!
Head on over to
POM Wonderful's website
and browse their other juices. Check out the
store locator tab
to see where they're selling POM near you!
Disclaimer-
I was provided a product in exchange for my review.
You can read more about my blog policies in my disclaimer.