Hey everyone! So my next review and giveaway is for
Protein Bakery
. Protein Bakery has a huge assortment of cookies, blondies, and brownies. Don't be turned off by their healthy name, because these aren't your average "healthy-version" snacks. Why? Um, because they're CRAZY DELICIOUS.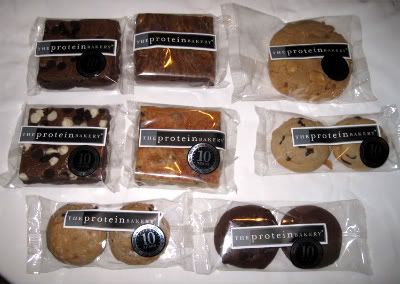 The goodies I received were:
Coconut Blondie with Chocolate Chips and Walnuts
Peanut Butter and Chocolate Chip Cookies
Peanut Butter Brownie
Chocolate Chocolate Chip Cookies
Black and White Brownie
Peanut Butter Peanut Butter Chip Cookie
Brownie with Chocolate Chips
Oatmeal Cranberry Cookies

Well, I was watching my calories and food intake...til these all came, and now I'm fat again. Hahaha, just kidding...maybe. But seriously, these are all incredible.
As the website says:
"Our idea is simple: use the highest quality, natural ingredients, baked to perfection. Don't add any preservatives or flavors. And as our name suggests– we use the purest whey protein isolate available. Each cookie, brownie, blondie has more protein and a few less carbohydrates than most snacks available. This nutritional balance prevents a heart rate change and won't spike your blood sugar."
I know, I know you're all nervous and have tried those healthy snacks before that taste like cardboard, the gluten free cookies, the sugar free sweets, well trust me have one bite of one of these snacks...and you will fall in love. The cookies are so soft and fluffy, the brownies are perfect not too crumby but not too cakey. Even the one I thought I wasn't going to like, the oatmeal cranberry cookies, I LOVED. It didn't look like oatmeal, but it sure as heck tasted like it.
There's just one problem, I can't tell you what my favorite is. Yes, yes they're THAT good. I thought I was going to say the Coconut Blondie with Chocolate Chips and Walnuts because I requested it but every other treat tasted just as delicious.
Best of all they're wheat-free, all natural, increased dietary fiber and has a buttload of whey protein! I love that they're filled with protein too because as a vegetarian it can be tough getting my daily intake of protein and it's a lot easier when all I have to do is eat a cookie!
Not going to lie, I kind of liked that they're called the Protein Bakery because my dad heard that and was completely turned off in trying them. So ahahaha! I got to eat them all without having to worry if someone was going to steal them.
Buy It!
Head on over to
Protein Bakery's website
and browse their amazing selection. Seriously, you won't be disappointed!
Win It!
ONE winner will receive ONE Protein Bakery Sample box!
1. Head on over to
Protein Bakery's website
and tell me what treat you'd like to try in the future.
Please do these entries first or else your comment will not count! You must do this first or future entries will not be counted.
(1 entry)
BONUS ENTRIES
2. Follow starIMPULSE on Google Friend Connect/Blogger. (2 entries)
3. Subscribe by Email and Confirm that Subscription (1 entry)
4. Follow me on Twitter. (1 entry)
5. Tweet about this giveaway and send me a direct link to that tweet, you can do this once a day. (1 entry per day)
6. Subscribe to my YouTube channel. (1 entry)
7. Add my StarIMPULSE button to your sidebar and send me think link to your blog so I can see it. (1 entry)
8. Add StarIMPULSE to your blogroll (using my URL), with a link back to me! (1 entry)
9. Blog about this post. Comment below linking me to your blog. (1 entry)
ONE winner will be chosen on April 20th, 2011 at 9:00PM (EST) and then will be emailed.
Alternate winners will be chosen if winner does not respond after 48 hours. This contest is only open to all US. Thank you and good luck!
Disclaimer-
I was provided a product in exchange for my review.
You can read more about my blog policies in my disclaimer.