Hey everyone! My next review is for
Go Jane
. Go Jane is a great women's clothing website that has a variety of trendy clothing and accessories for women that love the hottest fashions but are on a budget. I received an awesome maxi dress to try.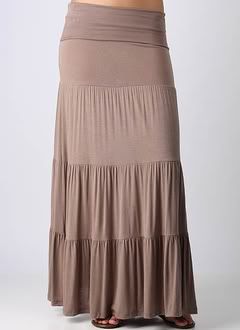 I chose the
tiered maxi skirt in mocha
.
It took me a while to find something on this website just because they have such a variety of amazing selections, it was extremely difficult to choose just one. I was going to go for a nice summer dress til I saw this maxi. I've been searching for a nice maxi skirt for months! Many are too see-through and the ones that aren't are ridiculously overpriced (coughExpresscough). I hesitated choosing this only because I've seen too many sheer skirts and didn't want to be stuck with one that have to wear leggings or something under.
But, this one is really great, your butt looks see-through at first but the top folds over and covers your bottom so they can't see anything, hoorayy. It is really lightweight too because maxi's man can weigh you down. I'm not much of a skirt person but I really love this. I also love the color, it's a little darker that what is pictured but not much. It can go with practically any color though. I tried it on with what I was already wearing and it looked great on. Such a hippy/bohemian vibe I love it. Also the tiered gives it some style, it's not just a plain maxi skirt.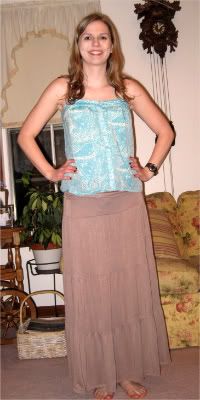 Definitely check out Go Jane because they seriously have such a great selection. They have formal clothing, everyday clothing, so many shoes, and so much more. They also have huge deals and sales. Right now they have a tunic top for sale for just $6! Awesome! I definitely plan on shopping there soon, I am actually debating on buying some of their
harem pants
. One of my friends rocked them and looked really cute and for this price you really can't go wrong. If you're a girl and love shopping and fashion check out Go Jane you will love it. Seriously.
Buy It!
Head on over to
Go Jane's website
and browse the selection! Warning though, you might be on there for a few hours because there's sooo much to choose from!