Hey everyone! So my next review is for
JewelMint
. JewelMint is this great jewelry company founded by actress Kate Bosworth and her stylist Cher coulter. Each month you'll receive personalize jewelry recommendations and style advice as well as piece of jewelry that you can choose from their website. Membership is just $29.99 per month. Shipping is free, returns are free and easy and if you don't find something you like, you can skip the month within the first five days for no charge.
I received two unique and cool pieces to review the Mumbai Bracelet and Marrakesh earrings.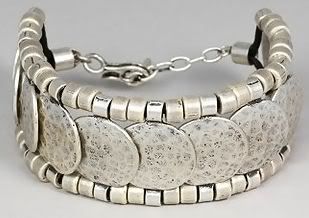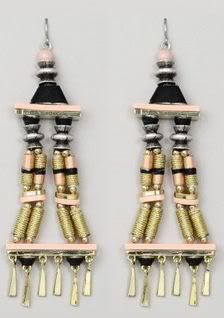 Both of these pieces are very different than what I usually wear, I'm not much of a jewelry wearer in general. But they looked very pretty and I decided to step out of my comfort zone and try them out.
First off, I loved the presentation of them. The earrings were in a lovely box with a ribbon on it, the bracelet was in a velvet pouch. Both had little cards sent with them explaining more about the pieces. For instance, the Mumbai Bracelet's card says:
"Chime this holiday season with this oxidized silver disc bracelet measuring 7" long and 11/4" wide."
The Marrakesh Earrings' card says:
"Wow your friends with these 3" gold toned earrings wrapped in gold, peach, and black threads with oxidized silver accents. Adorned with peach beads and peach enamel bars."
The earrings are really cool, they look pretty intimidating at first, they're really long but once you put them on they look really nice. The colors really compliment each other well, the black, gold, and peach. They look really well with practically anything. They are just quite a bit heavy. Also tribal is quite trendy right now and these are definitely on trend.
The bracelet is my favorite. It's also tribal too but still simple. I have a lot of silver necklaces and rings but haven't found a nice bracelet yet, til this one. I love the discs and the little, border around the rim. I also like that it has a hook and not one of those clips that you have to force open.
Overall, both of them are really cool, so is JewelMint. Their pieces are so unique and different, plus if you don't like any of the pieces you can skip and wait til next month. Definitely check them out, especially if you love hot jewelry that's in style now.
Buy It!
Head on over to
JewelMint's website
and use the promo code "
StarI50
" and you will get 50% off of your first JewelMint purchase. But hurry, the promo code expires June 1st!
Disclaimer-
I was provided a product in exchange for my review.
You can read more about my blog policies in my disclaimer.