Hey everyone, so I am super lucky to have the chance to try out this awesome intense Ab workout called
Revabs!
Revabs is this intense ab training system designed to burn off fat and give you a six-pack in just 90 days. There are two phases, both 45 days long, so join me on this adventure! And, if you follow along, you can have a chance to win Revabs for yourself too!
I was sent the entire kit as well as a bag of
Shakeology
to try, too.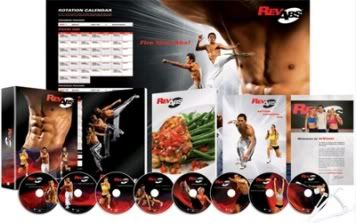 The kit includes:
10 DVD workouts on 8 DVDs
RevGuide
Nutrition Guide
Results Tracker and Tape Measurer
Anytime, Anywhere Abs Pamphlet
Calendar
I do go to the gym and work out 4 to 6 days a week and try to keep in shape, so while doing RevAbs if I have no time to do a RevAbs workout (or if the TV is being hogged!) I will replace a RevAbs workout with a gym workout. Or, if I'm feeling really crazy/amped up/have a lot of free time, I will do both!
I was very skeptical when I first received this kit mainly because it's a DVD workout, I'm always skeptical with DVD workouts. I'm a gym-goer I like the classes there where people yell at your and I like the machines and free weights. I feel like a lot of times people half-ass DVD workouts because it's a recording they're not really yelling at you and the DVD workouts are sometimes wimpy themselves. But this one does not mess around. You really work up a sweat. I did RevAbs 3 days in a row and started to feel soreness in my abs. My personal favorite is the strength training one, it's the most intense so far and you really feel the burn and work all areas. Though even the simple 15 minute Mercy Abs really gets your heart pumping.
The one negative, or at least negative for me that I will probably slack on isn't working out, it's eating. I noticed in the nutritional guide there's a lot of meat and fish. I'm vegetarian (pescatarian technically) so while I do eat fish I don't want to eat it everyday, mainly because it's not healthy to have fish everyday especially with the mercury. So I will probably switch it up a lot. I also do have a sweet tooth so yeah, I try and restrain myself but my house is a haven for baked goods and sweets, so it probably won't work. I'm hoping to have more will power in this area but we shall see. I gotta say though, I received a bag of chocolate shakeology and that is sooo good! I made a chocolate covered strawberry shake which was just a cup of water, a cup of strawberries, and two scoops of the shakeology and it was delicious! No gross aftertaste like most protein powders, super chocolatey and delicious!
More about me and why I want to do this workout plan. I'm what you call skinny-fat. I know that sounds retarded, but it is 100% true. I look skinny but I can never wear tight shirts or sometimes even tight t-shirts because I have stomach. Unfortunately for me, my stomach is out more than my boobies mainly because I have small boobs but also because I am indeed skinny-fat. I have love handles too which suck and give me retarded muffin tops. So what I want to do is just tone up. I don't want to lose much weight, just tighten so I will look better in a bikini this summer and just feel better about myself.
But here's how I look now, hopefully within the next 80ish days I will look tighter!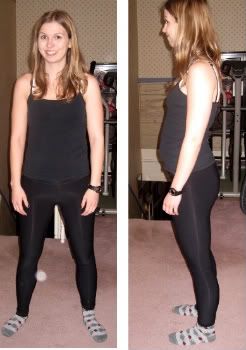 I hope you enjoyed this little beginning entry, I'm going to update my progress as I go along, hopefully every week. Let me know what you guys think of this idea and I hope you guys get fit along with me! :)
Buy It!
Head on over to
RevAbs' website
and
Shakeology's website
and check out their products!