Hey everyone! My next review is for
Katazoom
. Katazoom is an awesome company that designs and produces unique wall art, word art, vinyl lettering, murals, vehicle graphics, and more. I had the opportunity to review one of their inspirational wall art pieces.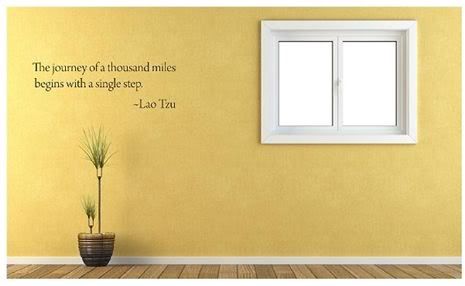 The one I received says:
"The journey of a thousand miles begins with a single step." - Lao Tzu
I'm not sure if you guys know this, but I'm a big traveler. I absolutey love it. Instead of saving money for clothes and jewelry like most people, I save it for traveling. I'm actually going to Spain and Portugal for 3 weeks in July and I'm super pumped about it.
So when I saw this quote I had to get it. To be honest though I haven't used it yet. Mainly because I plan on moving out soon and I plan on using it in my new apartment. I unraveled it though and it looks great, I am super excited.
One negative is that I wish it came with a tool to rub off the saying with. I have had these wall stickies before and they came with a little plastic thing to help you rub it off the paper and onto the wall. Sure it says to use a ruler or something flat like that but still, not the same. It's still super easy to put on though, all you have to do is rub it onto the wall and it peels off.
Overall though, I really do like the Katazoom store, they have a nice variety of wall decor, even vinyl clocks which look really cool. I definitely recommend checking them out especially if you want to jazz up your room/apartment/home with something really cool and unique. Instead of using paintings, posters, or murals this is a nice decor alternative. Especially if you live in a dorm or rent an apartment where you can't put any holes in the walls but still don't want to have just plain walls. Definitely check them out.
Buy It!
Head on over to
Katazoom's website
and browse their awesome selection.
Disclaimer-
I was provided a product in exchange for my review.
You can read more about my blog policies in my disclaimer.