Hey everyone! My next review is for
OPI's Nice Stems! collection
. Nice Stems! by OPI, a limited edition collection featuring four new nail lacquers in stunning shades of pink. With whimsical names based on their floral inspirations, these vibrant, flirty colors range from pale, frosty pink to rich fuchsia. Nice Stems! offers fingers and toes a perfectly pink shade for all of summer's looks.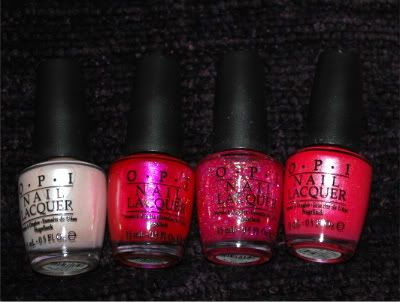 The colors in the collection:
Play the Peonies
Come to Poppy
Be a Dahlia Won't You?
I Lily Love You
Play the Peonies is a lovely soft pink, Come to Poppy is a shimmering coral pink, Be a Dahlia Won't You is a fabulous fuchsia, and I Lily Love You is a light pink sparkle that looks great as a top coat on any of the three shades.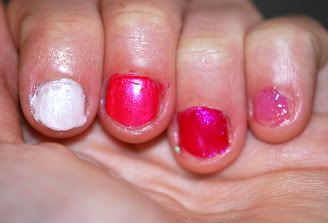 I'm not a huge pink person, but pink nails really are in this summer. They're bright and fun, so I had to conform. I particularly like the Play the Peonies and the Come to Poppy. I really like light pinks and the Play the Peonies is really lovely. I'm sure, with light pinks like this, they really pop with tanned skin, which I will eventually have this summer. Right now I'm red, but it will turn tan! The Come to Poppy is a great mix of coral and pink, almost orangey but not quite. Coral is definitely the main colors of the season and this one looks awesome on. I plan on painting my nails this color this coming week.
Overall, this collection is really wonderful. Perfect for any girl that loves to have the coolest colored nails for the summertime. "These vibrant, feminine hues complement 60's ladylike fashions, 70's glam looks, and bold color-blocking, which are the season's staples," says Suzi Weiss-Fischmann, OPI Executive VP & Artistic Director. "The Nice Stems! collection also offers an interesting contrast and feminine accent to the punk and biker looks on the runways."
Buy It!
Head on over to
OPI's website
and browse their awesome collection. This limited edition Nice Stems! collection will be available beginning June 2011 at Professional Salons, including Beauty Brands, Beauty First, Chatters, Dillard's, JCPenney, Pure Beauty, Regis, Trade Secret, and ULTA, for $8.50 ($10.95 CAN) suggested retail for each Nail Lacquer.
Disclaimer-
I was provided a product in exchange for my review.
You can read more about my blog policies in my disclaimer.