Hey everyone! My next review is for
Emjoi
. Emjoi is a great company that has a variety of personal care products from shavers to tweezers and more. I actually was able to try their Micro-Pedi which is new to the U.S. and is pretty freaking awesome.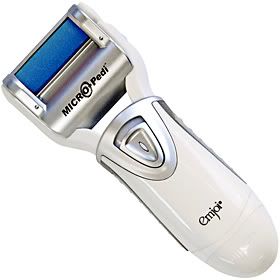 As the press sheet says:
"The Micro-Pedi is an ingenious and innovative little devise that removes dry, rough, hardened, callused skin from the soles of feet in no more than a few seconds, leaving them soft, supple, and beauiful for summer and year-round comfort. It does without pain, without the risk of nicks and cuts from metal scraper blades, without any of the hygiene concerns of having a pedicure at a spa, and ntirely effortlessly."
My feet are pretty rough. I walk a lot and work out by running and all that stuff. Plus at home and at my lake house I walk around barefoot, so yeah, they're very rugged feet, hahaha, not gross or anything but like any normal person I use them a lot, haha. So some parts are really rough and I was really, really excited to try this baby out. I would say one negative and that is it takes a little longer than a few seconds. But it doesn't hurt or anything and if you press too hard on your feet the micro-pedi stops to prevent harm. It's super easy to use and really does make your skin feel soft.
It comes with two rollers the blue one for more rough skin and magenta for less rough skin. I used the blue and it does work. It also comes with a little brush because using this gets dusty so you brush off all the dust off your feet. The white stuff also gets on the roller but you can easily wash it off under running water.
Overall, I really love this Micro-Pedi, it works so well and you really see a difference. It works better than most pedicure places too and it's cheaper! Definitely check it out if you want to freshen up your feet you won't be disappointed!
Buy It!
Head on over to
Emjoi's website
and browse their selection of awesome little products!