Hey everyone! My next review is for
. You guys might remember my previous review of there's I did a few months ago, if not check it out
here
. JewelMint is such a great company, they sell a variety of unique pieces of jewelry, definitely fun for all styles.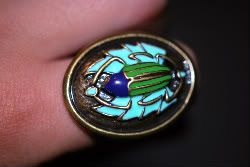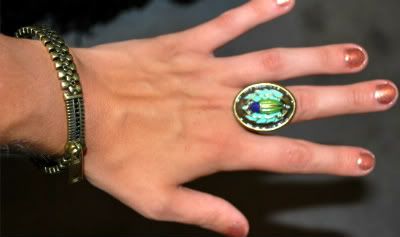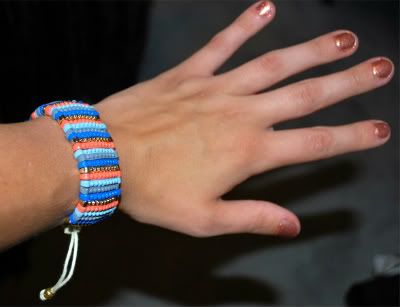 The pieces I received are:
Scarab Ring
For Keeps Bracelet
Bronze Zip Bracelet

I really love these pieces, not going to lie I think they're my favorite more-so than the previous set. I love big rings and chunky big jewelry is really in right now. But this one is cool and unique, so different from the trying to hard to be trendy rings out at stores like Forever 21 and H&M. The ring has an Egyptian Scarab on it but it's wonderful colors like teal and purple in it. As the nice little JewelMint card says it's a 14k gold-plated ring features raised walls and color enamel detailing.
"Designed for good fortune, a winged scarab rests on the ring's oval base. Play into ancient myth and transform any basic outfit into a seductivly mysterious ensemble."
Well, to be honest, I don't really dress all seductive and mysterious when I wear this ring but does go great with a LBD, whether your little black dress is seductive or mysterious or both is up to you. I personally like going with the whole grungy craze out now with a baggy crop top, something similar to
this sweater from Free People
, some ripped sorts and lots of rings and necklaces. I feel like this rings works so well with that and it sticks out from the others.
The next piece is the For Keeps bracelet which I think is so unique and cool. It's like a super fashionable take on old school friendship bracelets. You can tighten it and loosen it easily with two little strings, as the little card says:
"Created with a 3" opening, the bracelet expands to 4 1/4" with a cord pull closure. The bracelet's texture comes from 1" multicolored metal beads and etched gold bead."
The color combination is really pretty, and I'm usually picky with bracelets but I absolutely love this one. I really like wearing it with flowy white sheer shirts or dresses like
this Free People one
and simplistic clothing pieces. Just because this has lots of colors from coral to gold to blue so it you don't want to clash with a bunch of colors on. I also like wearing this solo so it stands out more. It is just such a great bracelet, definitely my favorite bracelet now.
Lastly, I received the Bronze Zip bracelet. I hadn't originally chosen this piece, not sure if they meant to send this to me or what. At first, when looking at it on the website, I wasn't interested in it, but seeing it in person, it is really really cool. It's like a bangle, but not your average bangle. It's in the shape of a zipper and while the bracelet itself is sturdy like a bangle there is a zipper piece that dangles. I found this piece to go really well with the Scarab Ring and wear it with similar outfits if not the same ones. It's very glam punk and even has small black crystals to give it a sparkle. Definitely a unique piece and though it's different and punky, you can totally rock this with anything.
Overall, JewelMint once again does not disappoint. With such a variety of pieces, there is definitely something for any girl, from earrings to bracelets. Definitely check them out, especially if you love hot jewelry that's in style now.
Buy It!
Head on over to
JewelMint's website
and browse their awesome selection!