Hey everyone! My next review is for
Supreme Protein Bars
. Supreme Protein Bars are these insanely delicious protein bars that aren't like most protein bars because the difference is uhhh they're insanely delicious! Seriously it's like eating candy bars! I received three boxes of amazingness!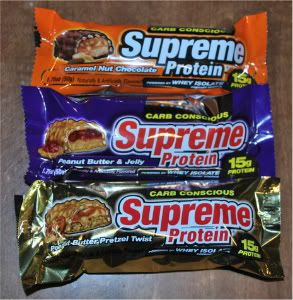 The flavors I received are:
Peanut Butter and Jelly
Peanut Butter Pretzel Twist
Caramel Nut Chocolate
As the website says:
"Delicious, nutritious and convenient, Supreme Protein® just might be the ultimate functional food. Each sensational flavor is nutritionally designed to significantly impact your physique-enhancing goals. From its premium-quality protein blend—powered by ultra-pure whey isolate as its primary source—to the truly amazing taste, Supreme Protein® has emerged to become a leader in the protein bar market."
These bars are so good! I love the variety of flavor, especially the Peanut Butter and Jelly one, it's so good! Such a unique flavor that yet is so simple, I'm surprised to other bar that I know of has thought of it before. The others are so good too, I think the Peanut Butter Pretzel Twist actually have real mini pretzels on top of it.
Protein is a necessity for you body. Your body uses protein to build and repair tissues. You also use protein to make enzymes, hormones, and other body chemicals. Protein is an important building block of bones, muscles, cartilage, skin, and blood. Although protein bars are great and incredibly delicious, you can't forget that protein while it is healthy for you is also pretty high in calories. These bars come in at a whopping 200 calories per bar, so watch your snacking with them. They make great pre-workout snacks so it helps your body burn fat and build muscle or post-workout snacks so it helps your body heal tissues. They're made for that, but like all sweets I don't recommend snacking on them all the time/at night, just follow the basic healthy living rules, you know?
Overall, I definitely do recommend these and honestly can't even tell you which one is my favorite because they're both so delicious and have such different and delicious flavors. They have so much more on their website too, like Cookies and Cream, Mmmm! If you're into working out and gaining protein. I like finding extra sources of protein in general because I do like working out but also I'm vegetarian so I lack a little more protein and it's nice to get it in this way because I do have a major sweet tooth and eating one of these is definitely killing two birds with one stone for me -- getting protein and satisfying my sweet tooth, yayy!
Buy It!
Head on over to the
Supreme Protein website
and browse their delicious flavors. You won't be disappointed!
Disclaimer-
I was provided a product in exchange for my review.
You can read more about my blog policies in my disclaimer.