Hey everyone! My next review is for Larabar, you may remember I reviewed a few yummy bars of them before in the past, you can check that review out
here
. This time they sent me their latest flavor
Chocolate Chip Cherry Torte
.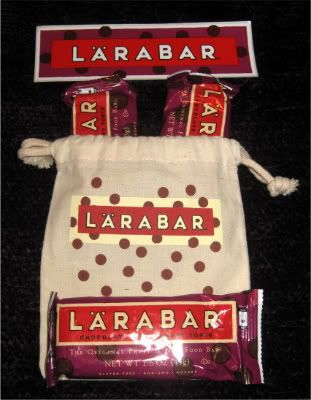 It even came with a cute pin!


One word: YUM. I love the unique combo of chocolate and cherries, I mean what bar has that dynamic duo? It just tastes so, so good!
A blend of unsweetened fruits, nuts and spices, each LÄRABAR is made from 100% whole food, and no more than 2 to 9 ingredients. Their mission is:
"We believe that what you eat is healthiest and most satisfying when it's in a whole, natural state."
As indulgent as the decadently layered cake it emulated, with smooth chocolate chips and tart cherries and it's only made with six ingredients! Chocolate chips, almonds, unsweetened cherries, cashews and sea salt. Yup, that's it! And it's so delicious!
Larabars are definitely one of my favorite to go snacks because they're healthy, made from ingredients I can actually read and understand, and are simply delicious. They're also gluten free, non-gmo, and kosher which are all super pluses in my book!
If you're not a fan of cherries or chocolate no biggie, seriously that have tons and tons of flavors to choose from you will definitely fall in love with at least two of them! The bars are so soft and sweet I don't know any person who doesn't like them, they're too delicious to pass up!
Definitely check out Larabars, especially this new yummy flavor, you won't be disappointed! Definitely a new favorite of mine, cherries don't really get many snacks flavored after them and I love them. If you're a fan of cherries you will absolutely love this bar, too!
Buy It!
Head on over to
Larabar's website
and browse their insanely delicious selection. If you like sweet stuff you will love any flavor from Larabar!