Hey everyone! My next review is for
Legxicon
. Legxicon is a great company that sells a wide variety of tights, leggings, and socks. I was given the chance to review FOUR pairs of leggings and tights!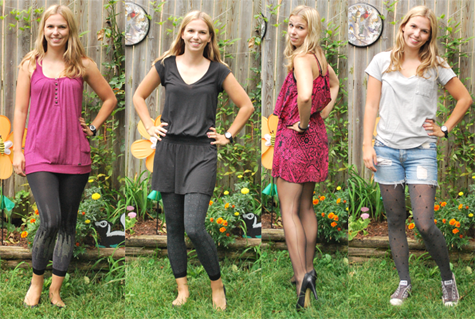 The styles I received are (from left to right):
Colly Ann 1 Leggings
Colly Ann 6 Leggings
Chiara Backseam Tights
Sadie 1 Patterned Tights
I really loved the variety of leg wear this website had, patterns and styles I'd never seen before. I really liked the variety and how some were perfect for night time, others were perfect for casual, and others were perfect for both. The leggings were a lot thinner than I was expecting which is both a good and bad thing, good because you won't sweat your butt off but bad because you may get cold. The whole catch 22 of leggings in general.
The problem for me was I was an in-between size between a small/medium so, like the idiot that I am, I chose the smaller sizes and while it worked for most of the leggings, right when I was taking the pictures for these the Chiara Backseam Tights ripped. I was so mad at myself! They were one of my favorites because they could be fancy but they could be worn under jean shorts, too. So, moral of the story, if you are an in-betweener like me, order a size up! It will be worth it in the end.
I loved the style of all the tights, some even looked better than I expected. It's hard to choose a favorite because 3 of them definitely ranked up there, but the tights that I know I will wear more than I thought I was going to is the Sadie 1 Patterned Tights. They look so cool on and are so comfortable. They match practically everything, too!
My least favorite were the Colly Ann 6 Leggings, I don't know what I was expecting but these have a weird plaid pattern and then instead of white or grey dots which I thought they were going to be they were like silver shimmery ones. Not particularly my style but...from far away they look nice.
The Colly Ann 1 Leggings are really nice, definitely up there are one of my favorites, I love the city skyline, so unique. Also since I live 20 minutes from New York and I've been born and raised here it's nice to have. Especially since I'm moving to California I can take a little city skyline with me. I love the purples and grays color scheme, too.
Overall, I really enjoyed Legxicon's products and was very surprised with how nice these tights and leggings turned out to be. I love the variety, they are super fashionable for night and day and there's definitely something for everyone. Definitely check them out!
Buy It!
Head on over to
Legxicon's website
and browse their wide variety of fantastic legwear!
Disclaimer-
I was provided a product in exchange for my review.
You can read more about my blog policies in my disclaimer.