Hey everyone! My next review is for
Alex Blake
. Alex Blake is an awesome website that has a various selection of fabulous tights from all price ranges. I was given the chance to review a wide assortment of their great opaque tights which are great for this fall season! Alex Blake was insanely kind and sent me six different tights to review!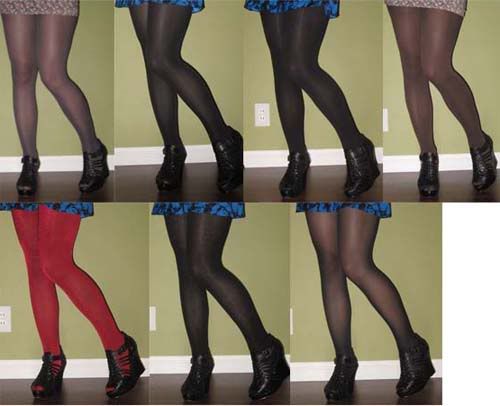 The tights I received are:
Jonathan Aston 40 Denier Opaques in Aubergine
- Sold for $9.75, they come in loads of awesome colors. But this Augbergine is like a nice grayish purple, it's a super awesome color that goes with practically everything. A great alternative to black. Also the most transparent of the tights and least thick.
Pamela Mann 80 Denier Opaque in Chocolate
- Sold for $9.89, also comes in loads of awesome colors. They also have 50 denier and 120 denier sold in same shades. There really aren't many nice brown tights, or I haven't seen many, but this one is great. Brown is such an underrated color especially with tights and I plan on rocking these out.
Levante Suede Matte 50 Tights in Blumarine
- Sold for $11.25. Super dark color, almost black, to be honest I don't think I noticed it was blumarine until I read the label. Nice, smooth, and matte. Nice dark color, also a great alternative to black but if you still want to stick to just dark colors.
Falke Seidenglatt 70 Tights in Black
- Sold for $38, they're about to get more awesome color on their site, too. These were the first pair I tried on and they're so smooth and soft. I think they may be my favorite ones. They're just so, so comfortable and look great on. They're shiny opaques too which I think are awesome.
Pretty Polly 60D Lustre Opaques in Redcurrant
- Sold for $13. This picture really does not do these tights justice. They look super bright but they're a nice dark cranberry color. They actually look really awesome with that dress but the flash kind of ruins the picture. I love the color and I can totally see myself rocking them with a black mini skirt.
Aristoc Microfibre 80D Tights in Black
- Sold for $29. New to the Alex Blake site, they have 3D technology which makes them soft and stretch in all directions. They're similar to the Falke ones but not shiny, but matte instead and a great classic black.
Pretty Polly 120 Modal Tights in Black
- Sold for $17, these are also new on the site. These are really thick but super comfortable, perfect for those crisp cool fall nights. These are also up there in my favorites just because they're so comfortable. Plus you don't see thick tights that often.
As you can see above, I took various pictures of the tights in two different dresses but the blacks look very similar on picture but feel and look very different in person. Plus they feel different too. Some are thicker while others are smooth. Some are matte while others are shiny. I actually think the various thicknesses are great to have because fall is always a tricky season with weather. Hot one day, cold the next, eventually getting colder for winter.
I found all of the tights to be very well made, some were a little tight and I was worried I'd rip them but they stretched perfectly. It was great to see the price ranges and how the texture seemed to change with the price. The more transparent ones are cheaper but the thicker and smoother the pricier, which is totally understandable. I felt myself more comfy in the thicker ones, especially the thicket Pretty Polly ones, they were like amazing sweatpants. I could wear them all day then just hang out in them all night.
Overall, Alex Blake is a great website with a great selection of tights for various prices and styles. Definitely check them out, especially their wide selection of opaques. Fall is tight season and you definitely have to check out this awesome tight site!
Buy It!
Head on over to
Alex Blake's website
and browse their awesome selection! You won't be disappointed!