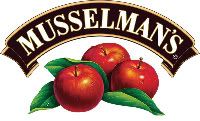 Hey everyone! So I'm just continuing from
this post
about the awesome Musselman's trip!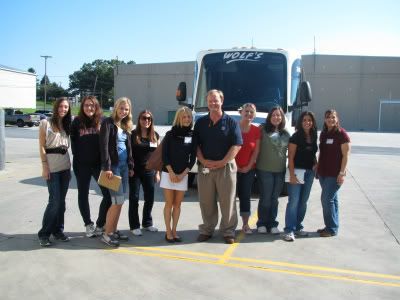 After the Orchards we went to the Gardener's plant and saw just how the original Musselman's applesauce was made. Applesauce is usually blended from 4 different types of apples. They try and use every product, even bruised apples get juiced.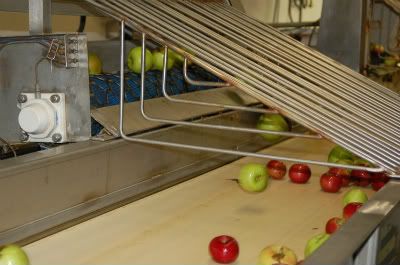 It was really fascinating to see all the machines and how everything was made. But it wasn't just machines that was helping production but 200 people too who work together to pick out defects before the machines. If they do miss some defects they have super high tech machines to find the defects too. For instance, one machine simple shines a beam of light on the apples and if any have any bruises, they remove it.
They really think of everything to make sure the product is perfect for consumers. For single-serving applesauce they even have a special test to make sure the seal is easy to peel off for kids and adults but still sealed on well enough to prevent it from opening.
Next up we went to the Tech Center and actually got to taste test some products. Because Musselman's is pretty awesome, I already tasted most of the flavors, but you know, it's nice to taste them again!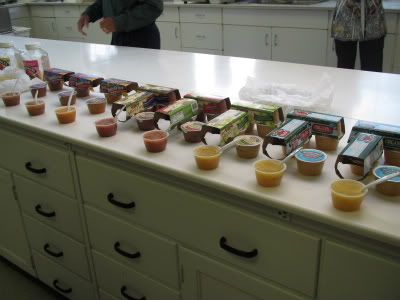 This is where they do special tests on the products to test out the consistency and spreadability. We learned that contamination makes the product last less, even using a dirty spoon quickens the expiration of the products, so remember to use clean spoons and utencils!
We also learned some fun facts like you can mix apple butter and cottage cheese together to make a yummy snack. Or heat up chunky applesauce and granola for a nice warm breakfast.
Overall, the Musselman's Orchard Day was fantastic! What I actually really enjoyed was the passion of the employees. You can tell when they discussed Musselman's and the whole process that they loved what they were doing and the company they worked for. They are also firm believers in stable employment for all employees. They were all very friendly and answered any questions, if they didn't know an answer they would go out of their way to find out. I love Musselman's products but meeting the faces behind the creation process and seeing how nice and passionate they were about their jobs, makes me love Musselman's even more.
But the trip wasn't over yet! After our fun-filled day at Musselman's we went back to the hotel, chilled out for a bit and then went out to eat at the Dobin House and had pretty much one of the most delicious dinners I ever had. Salad, crab cakes, appletinis, and to top it off apple pie made from Musselman's apples! Deeelicious! We even got these really nice apple pins and glass apples!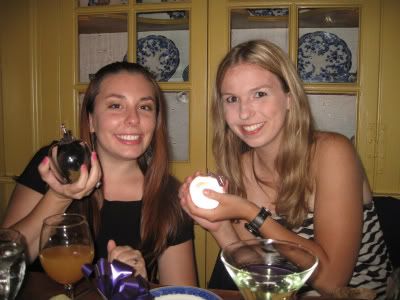 After that we went on a Ghost tour! It wasn't really spooky, we didn't see any ghosts (I was kind of disappointed about that) but it was really cool to learn all the haunted stories of Gettysburg! The lady even showed us some creepy ghost photos she had, too!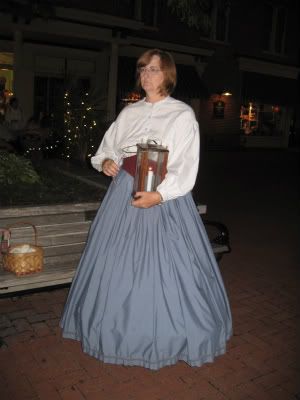 Then we all headed back to the hotel, had a mini blog party and just chatted it up a bit, not too late though, we all had to be up early the next day for our flights back home!
Overall, it was such an incredible experience. I learned so much and my love of Musselman's just grew even more. It was also great to meet other amazing bloggers and brainstorm with Musselman's and the other bloggers. It was definitely a trip I won't forget. Thank you so much Musselman's you guys are awesome!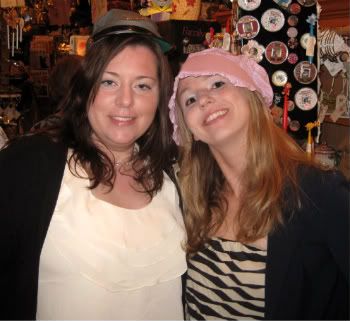 Disclaimer-
I was provided a product trip in exchange for my reviews.
You can read more about my blog policies in my disclaimer.