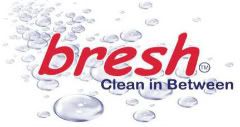 Hi everyone! My next review is for
iBresh
. iBresh is a really cool company that has one-time use, 100% biodegradable disposable toothbrush with toothpaste in the cap!
They sent me three iBresh brushes to try out in various colors.
They're all really awesome, so simple perfect for camping or just traveling in general. As the website says:
"Loaded with all-natural, spearmint flavored, Xylitol toothpaste. Place your thumb on the cap and push the toothpaste into the bristles. Xylitol toothpaste is known for its ability to fight cavities, protect your teeth, and give you fresh breath! Xylitol is safe to swallow, NO water needed."
This is so awesome and easy to use. The button just let the toothpaste squeeze out and the toothpaste really isn't bad tasting it tastes just like minty toothpaste. You get a pleasant hint of mint, not a mouthful of suds. The ridged handle can also be used to scrape your tongue. And unlike other popular on-the-go teeth cleaners, it doesn't contain any artificial colors or sweeteners.
Definitely check them out, whether you plan on traveling or just like to brush your teeth after meals and want to keep them in your purse, they're awesome. You won't be disappointed!
Buy It!
Head on over to
iBresh's website
and browse their awesome selection!
Win It!
ONE winner will receive an assortment of Bresh toothbrushes!
1. Go to
iBresh's website
and tell me what color you'd most like to try.
Please answer this question or else your comment will not count! You must do this first or future entries will not be counted.
(1 entry)
BONUS ENTRIES
2. Follow starIMPULSE on blogger. (2 entries!)
3.
Like Star Impulse on facebook.
(1 entry)
4. Subscribe by Email and Confirm that Subscription (1 entry)
5. Follow me on Twitter. (1 entry)
6. Tweet about this giveaway and send me a direct link to that tweet, you can do this once a day. (1 entry per day)
7. Subscribe to my YouTube channel. (1 entry)
8. Add my StarIMPULSE button to your sidebar and send me think link to your blog so I can see it. (1 entry)
9. Add StarIMPULSE to your blogroll (using my URL), with a link back to me! (1 entry)
ONE winner will be chosen on November 28th, 2011 at 5:00pm (EST) and then will be emailed.
Alternate winners will be chosen if winner does not respond after 48 hours. This contest is only open to all US Residents. Thank you and good luck!
Disclaimer-
I was provided a product in exchange for my review.
You can read more about my blog policies in my disclaimer.