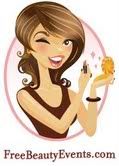 Hey everyone! It's your monthly reminder to check out an awesome website called
FreeBeautyEvents.com
. Free Beauty Events is an awesome website that has free makeovers, free samples and a chance to win beauty products in our monthly contest. By entering your zip code to find out what makeover, gift with purchase, spa open houses and sampling events are happening near your home.
For the month of December 2011, they will be giving away 10 prizes. Each prize will consist of  Fekkai Sheer Hold Hairspray; got2b Powder'ful Volumizing Styling Powder; Caress Body Wash, Exfoliating Burnt Brown Sugar & Karite Butter; and Caress Body Wash, Moisturizing Daily Silk. The Contest runs from 12/1/2011 to 12/31/2011, winners will be chosen on 1/5/2012 and notified by 1/15/2012.
Also, on December 17th, Walgreens is having their SaturDate with Beauty with Coty. Beauty Advisors will be giving customers personal assistance with their holiday/personal shopping and there will be seasonal gift sets available. And on November 12th, Beauty Advisors will be demonstrating Sally Hansen Salon Effects Real Nail Polish Strips and Crackle Overcoat. They will also be passing out great coupons. This information is available for FREE on our website where spas and retailers can promote their events. Anyone who would like our site visitors to know about their beauty event can make a posting for free on our site at
http://www.freebeautyevents.com/submit
.
Definitely, check out
Free Beauty Events
because we all love being pampered with makeup and beauty products, but what's even better is getting them for free!
Be sure to
"like" Free Beauty Events
on Facebook and
follow them on Twitter
.