Hey everyone! My next review is for
LaraBar
. LaraBar is a great company that has such delicious snack bars. You may remember that a few reviews of them before and you can check them out
here
.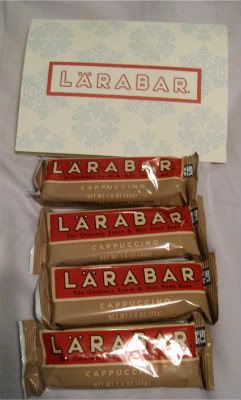 I was lucky enough to be sent their newest flavor,
Cappuccino
.
I was kind of worried about this flavor at first because coffee flavored things can go both ways. They can either taste really great or taste super terrible and overly caffeinated. Needless to say I was a bit hesitant to try this flavor. But I went for it and I am glad I did. It is delicious. It's not a super caffeinated flavor, but a great combination of sweet and cappuccino. It tastes, so, so good! It's chewy, delicious, and just makes me love LaraBar even more!
A blend of unsweetened fruits, nuts and spices, each LÄRABAR is made from 100% whole food, and no more than 2 to 9 ingredients. Their mission is:
"We believe that what you eat is healthiest and most satisfying when it's in a whole, natural state."
Guess what the ingredients are for this bar: dates, almonds, cashews, coffee, and vanilla extract. That is it! And it is so good!
Some other awesome facts about LaraBar aside from the fact that they're delicious is that they're gluten free, dairy free, and soy free. There's no added sugar. One bar equals 1/4 cup of fruit. They're also a great source of fiber.
Definitely check out LaraBar, even if you don't like coffee flavored things they have a wide variety of crazy awesome flavors. From Ginger Snap to Banana Bread to Peanut Butter and Jelly. They have a flavor for anyone, seriously! They make awesome stocking stuffers!
Buy It!
Head on over to
Larabar's website
and browse their insanely delicious selection. If you like sweet stuff you will love any flavor from Larabar! Cappuccino isn't up there yet but be on the lookout of this new and delicious flavor in early 2012!