Hey everyone! So my next review is for
Purex's new Triple Action Detergent
. Purex is a great laundry detergent company, it's my go-to brand because it's reasonably priced and works the best in my opinion. Now with it's new triple action formula there is sure to be no competition!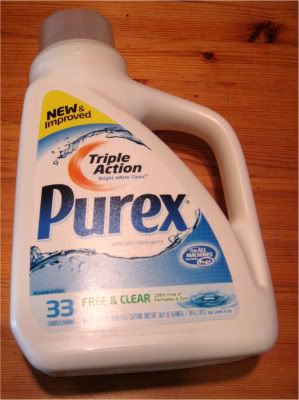 I chose the
Free and Clear
scent. Don't be confused, just because it's a white bottle means it is still a detergent, not a bleach! I chose Free and Clear over Mountain Breeze because sometimes I like cleaner smelling detergent over nature-y smelling ones. I kind of wish I tried the Mountain Breeze one though because this one doesn't have much of a smell to it. But oh well, next time I'll go naturey.
As the press kit says:
"New Purex Triple Action leverages the best parts of our current formula, combined with new additions, to deliver great cleaning
plus improved brightening power."
I conveniently received this package on laundry day and immediately tried it out. It works just as great if not not even better than usual Purex detergent. My whites looked whiter and my colors looked brighter. I also did my sheets and they were soft and comfy. I wasn't the only one to use it though, I told my roommates about this new detergent and they were really pumped to try it too. They liked how fresh and clean their laundry came out. One of my roommates uses a competitor brand and noticed a bit of a difference, she's a clean freak and noticed that it made her laundry's colors stronger and brighter.
Another great thing about all Purex detergents is that they are all specially formulated to work in both traditional and High Efficiency washers. This ensures that Purex is always available to any consumer, no matter what kind of washer you have.
I love Purex, it is my favorite brand and I'm not just saying that, it is half the price of the leading brand and does just a good if not better job on laundry. Definitely check out Purex's new Triple Action detergent, you won't be disappointed!
Buy It!
Purex Triple Action Detergent available in WalMart. But also check out your local grocery stores and Target too!
Disclaimer-
I was provided a product in exchange for my review.
You can read more about my blog policies in my disclaimer.