Hi everyone! My next review is for
Guylian Chocolate
. Guylian Chocolate is a delicious Belgian chocolate company that sells a variety of incredible chocolate. They sent me an insane amount of chocolate.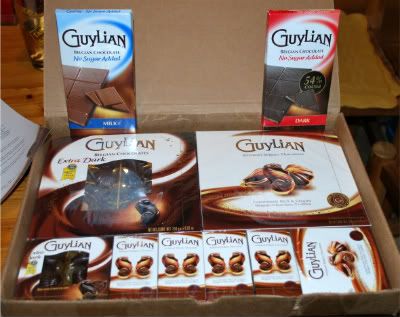 The chocolate I received was:
No Sugar Added Dark Chocolate Bar
No Sugar Added Milk Chocolate Bar
Extra Dark Sea Shells
Sea Horses Original Praline
Wow, these are incredible. I shared a bunch of them with my roommates and also sent a box to my Grandma for her birthday because she loves chocolate just as much as I do. I also gave the milk chocolate sugar free bar to my Uncle's girlfriend because she is diabetic. She was super excited to try and told me she loved them.
They're so delicious. The Sea Horses were so unique, I haven't had chocolate like them in a while. As the website says:
"The marbled and milk chocolate seahorses are filled with our unique hazelnut praliné with finely ground hazelnuts to create the ultimate chocolate experience."
They're so great.
My favorite though was the dark chocolate sea shells and the dark chocolate bar just because I love dark chocolate. They were so rich and delicious. A few pieces hit the sweet tooth perfectly. As the website says:
"Dark chocolate lovers will enjoy treating themselves to Guylian's Sea Shells Extra Dark as they are made from 74% extra dark Belgian Chocolate. Discover this new delicacy filled with a delicious dark hazelnut praliné made in the age old traditional manner."
Another awesome thing about the Extra Dark Sea Shells is that it was awarded an internationally renowned 3 Stars Superior Taste Award.
The flavor of all of them are perfect, so smooth and rich. Plus Valentine's Day is coming up and these would make the perfect, delicious gifts for your special someone. Definitely check them out, you won't be disappointed!
Buy It!
Head on over to
Guylian's website
and browse their delicious products. Also click on the
Where to Buy
tab to see where they're selling the chocolates near you!