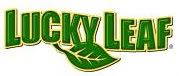 Hey everyone! My next review is a pretty cool one, they're all cool yes but this time I got the chance to have a little party thanks to
Lucky Leaf
. I was sent some pie fillings, a $10 WalMart gift card, and some yummy recipes.
The recipes they had me make were:
Sweet and Hot Slow Cooker Pork, Caramel Apple Cheesecake, and Cherry Chocotinis
. As you guys know, I'm a vegetarian and while my other friends aren't some couldn't eat pork plus it was just easier to decide on one thing so I instead made some black bean burgers. I am saving that apple pie filling though for a yummy apple pie or apple crumble for one of my friend's birthday. But if you guys love pork you should definitely try it!
Sweet & Hot Slow Cooker Pork
Ingredients
Nonstick cooking spray
2 canned chipotle chile peppers in adobo sauce, chopped*
1/2 teaspoon salt
1/2 teaspoon ground black pepper
1/2 teaspoon smoked paprika
1 2 1/2- to 3-pound boneless pork shoulder roast
3 medium sweet potatoes, peeled and cut in 1-inch cubes
1 large onion, chopped
1 21-ounce can LUCKY LEAF ® Apple Pie Filling
3 tablespoons all-purpose flour
Preparation
1. Lightly coat a 5- to 6-quart slow cooker with nonstick cooking spray. In a small bowl, combine chipotles, salt, pepper, and paprika. Rub mixture over the pork. Place pork in the slow cooker. Top with sweet potatoes, onion and pie filling. 2. Cover; cook on low-heat setting for 6 to 8 hours or on high-heat setting for 3 to 4 hours. Remove pork and apple mixture from slow cooker. Cover with foil and let stand 10 minutes. Transfer cooking liquid to a medium saucepan. Stir together 1/4 cup water and 3 tablespoons flour. Add to saucepan. Cook over medium-high heat until mixture is thickened and bubbly; cook and stir 1 minute more. Slice pork and serve with apple mixture and thickened sauce. Makes 8 servings. * Because hot chile peppers, such as chipotles, contain volatile oils that can burn your skin and eyes, avoid direct contact with chiles as much as possible. When working with chile peppers, wear plastic or rubber gloves. If your bare hands do touch the chile peppers, wash your hands well with soap and water.
We did eat the desserts, though. And man! They were sooo delicious! I was a little hesitant with the Caramel Apple Cheesecake just because the idea sounds strange. Apple pie filling and cheesecake? But man! Whoever thought of this was an absolute genius! It was incredibly delicious. It is really sweet and full of flavor. The cheesecake and apples and caramel really compliment each other incredibly well. My one friend has diabetes, not extreme but she has to stay away from sugar. However, she couldn't stay away from this pie.
I could've sworn I took pictures but I think I may have deleted them because I can't find them. Which is really sad because that pie was really amazing and I was super proud that I made it.
Ingredients
21 oz. can LUCKY LEAF Apple Pie Filling
9 inch graham cracker crust
2 – (8 oz. packages) cream cheese, softened
½ cup sugar
¼ tsp. vanilla extract
2 eggs
¼ cup caramel topping
12 pecan halves, plus 2 tablespoons chopped pecans
Preparation
Preheat the oven to 350°. Reserve ¾ cup of the apple filling; set aside. Spoon the remaining filling into the crust. Beat together the cream cheese, sugar and vanilla until smooth. Add the eggs and mix well. Pour this over the pie filling. Bake for 35 minutes, or until the center of the cake is set. Cool to room temperature. Mix the reserved pie filling and caramel topping in a small saucepan and heat for about 1 minute, or until spreadable. Spoon the apple-caramel mixture over the top of the cheesecake and spread evenly. Decorate the edge of the cake with pecan halves and sprinkle with chopped pecans. Refrigerate the cake until ready to serve.
I left out the pecans mainly because I'm cheap, but it was still pretty delicious.
Lastly, the yummy Cherry Chocotinis. I don't have martini glasses so we used wine glasses. It is the easiest thing to make, all you have to do is make the pudding. It is so simple and delicious. Chocolate and cherries always go well together and this recipe was perfect. It also wasn't super filling, but I mean after eating everything it was, haha.
1 box (3.4 oz.) chocolate pudding
2 cups cold milk
2 cups whipped dessert topping
1 can (21 oz.) LUCKY LEAF Premium Cherry Pie Filling
1 loaf pound cake (store-bought or box-made) cut into ½" cubes
1 cup miniature chocolate chip morsels
Preparation
First, prepare the chocolate pudding by mixing it with milk, according to the instructions on the box. Then, take your favorite martini or cocktail glasses and begin to layer the ingredients. Start with a base layer of cubed pound cake. Spread a layer of pudding on top of the cake, then a layer of LUCKY LEAF Premium Cherry Pie Filling. Finish the dessert with whipped topping on the cherry pie filling and sprinkle with chocolate morsels. Cheers!
It was such a fun time, I'm sorry again I don't have pictures and sorry friends (I know some of you guys wanted to see them, too!) but that just gives us an excuse to have more dinner parties!
Overall, Lucky Leaf is such an awesome brand and they have so many recipes, you can make so many delicious desserts, dinners, and more just with their pie fillings. Check out their
recipe website
for some yummy inspiration! And check out their products, you won't be disappointed!
Buy It!
Head on over to
Lucky Leaf's website
and browse their products! Then click on the
Store Locator
to see what store is selling them near you!